No doubt! The Everest Base Camp Trek – also called 'EBC Trek,' is a fantasy project for adventure and mountain lovers to visit at least once in a lifetime. It is a pristine journey to the Khumbu Himalayas in Nepal. Over 40,000 trekkers explore this yearly so that you can keep this trip on your Autumn 2023 and 2024 bucket lists.
Trekking to Everest Base Camp is challenging, although the attractions add extra energy to walk to the trekkers. The trail leads through the Sagarmatha National Park after Monjo, where you can see typical Sherpa towns, green vegetation, waterfalls, rivers, and more.
You will walk through different valleys like Dudhkoshi, Imja, and Khumbu, seeing captivating landscapes along the way to the Everest Base Camp after Phakding. It is a natural and cultural trip, where you see many Buddhist monuments and be a part of the culture by visiting historical and religious monasteries and joining regular worship with the monks.
Trek to Everest Base Camp is, witnessing many high snow-capped mountains. Still, you will also see massive Khumbu and Imja Glaciers along the way to EBC. The Everest Base Camp itself is located on the Khumbu Glacier. It is very close to the Khumbu Icefall, a technical part to cross for the Everest Climbers.
12-Day Everest Base Camp Trek Itinerary Overview
The 12-day Everest Base Camp Trek's walking journey begins from Lukla after landing at Lukla Airport with a short scenic adventurous flight from Kathmandu. Although, the flights are operating from Manthali (Ramechhap) during busy trekking seasons. Ramechhap Airport is 129.5 Km/ 80.467569 miles east of Kathmandu, which takes around 4-5 hours to drive.
Our guide flies with you, but you will meet the rest trekking crew after you land at Lukla, who help to carry your trekking gear. You will stop in a guesthouse, where you will be introduced to all the trekking staff, have hot drinks, and start walking towards Phakding.
After crossing the Pasang Lhamu memorial gate at the end of Lukla, You issue a Khumbu Pasang Lhamu Rural Municipality entry permit. You pass your passport to our guide to make this entry ticket. Then you walk through typical Sherpa villages Chheplung, Thadokoshi, and Ghat.
After the first night's stay in Phakding, the second day goes to Namche Bazaar by following the Dudhkoshi River valley. You cross two suspension bridges before reaching Monjo, where our guide issues the National Park entry permit, and cross another bridge to Jorsalle and stop for lunch. You will have two more bridges to cross after lunch, so you will have five bridges in total before you reach Namche. It is one of the longest walking days on your way up to the Everest Base Camp.
The third-day itinerary of the trip is the most important because you take an altitude and practice rest before going to the higher elevations. Today, you hike to Hotel Everest View in the morning for acclimatization and see magnificent views of Mt. Ama Dablam, Thamserku, Khangteka, Kusum Kangaroo, Lhotse, Nuptse, Everest, and other high peaks of the Everest Himalayas.
After two nights in Namche Bazaar, you trek to Tengboche on the fourth day, the best viewpoint to see Mount Ama Dablam. You will also visit a historical Buddhist monastery and join the offering with the monks here in the evening. The next day, you walk to Dingboche Village, the highest regular village in the Everest region. You will have a second altitude practice rest day here and hike to Nangkartshang Hill on the 6th day.
You reach Lobuche on the 7th day from Dingboche and see many memorials of passed climbers at Thukla Pass. You reach Everest Base Camp on the 8th day after leaving Lobuche. You will trek to Gorakshep first, drop off all your stuff, and hike to the Base Camp. After visiting the Base Camp, you return to Gorak Shep to stay and walk to Kala Patthar on the 9th day morning.
After Kala Patthar, the trekking itinerary goes to Pheriche, passing by Lobuche and Thukla. The returning days are longer than going up, and you will arrive at Lukla after three days of walking from Gorakshep. Suppose you want to avoid trekking those long days to Lukla or do not have time. In that case, you can fly out on a helicopter to Kathmandu directly after the Kala Patthar visit, the Helicopter Return Everest Base Camp Trek. You will spend the last night in Lukla before taking a flight to complete the trek itinerary.
If you think visiting Everest Base Camp with a trek is challenging but so much interested in reaching there while traveling to Nepal, you have a luxurious option. The Everest Base Camp Helicopter tour from Kathmandu takes you directly to the Base Camp and Kala Patthar, where you can see the world's highest mountain and its pristine surroundings within a few hours without any physical challenges.
Trek Map of Everest Base Camp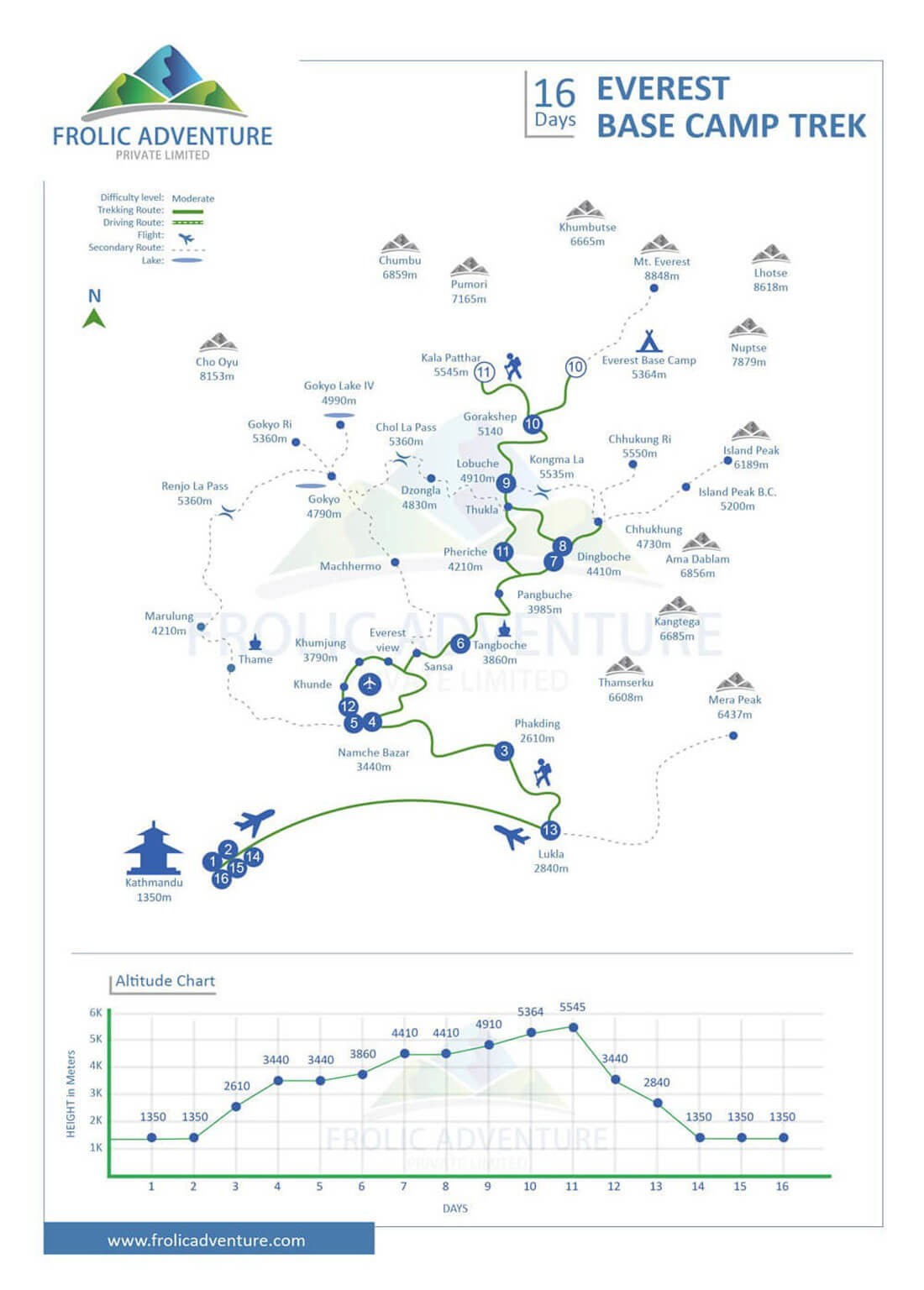 Trekking Map of Everet Base Camp with Altitude
We have set 16 days trip map for Everest Base Camp, which begins from your arrival until the final departure home. However, You will be in the mountain for 11 nights and arrive in Kathmandu on the 12th.
According to our trip map of Everest Base Camp, our airport representative will pick you up from Kathmandu Airport upon your arrival and transfer you to the hotel via private transport. You will meet our tour manager and discuss the next day's plan. You will have a full-day Kathmandu tour on the second day and depart for the trek to Everest Base Camp on the third day.
You will stay in the mountain from the 3rd to the 13th day in the mountain and fly back to Kathmandu on the 14th day with a great experience. Day 15 is a spare day if the Lukla flight has any issues flying in or out. Suppose everything goes well, and you complete the trip with the regular itinerary. In that case, you will have one extra day in Kathmandu, which you can use for rest, or another one-day trip to Kathmandu Valley.
Best Time or Season to Trek to Everest Base Camp
Of course! You must choose the best time to trek to Everest Base Camp to make your trip memorable. What should be an ideal time to go to the Everest Himalayas? Here, you get information about this below:
Autumn Season
September to November is considered autumn in Nepal, so it is the busiest and most incredible season to trek to Everest Base Camp. Heavy rainfalls clear all deep haze in summer from June to August and make the weather crystal clear.
Because of clear visibility, there won't be many flight cancellations to Lukla in autumn, and the mountains look bright. The vegetation stays dark green in autumn. The rivers remain clean, and the waterfalls are prominent on the Everest Base Camp trail in autumn, so it is one of the best seasons to trek to Everest Base Camp. Although, the first half of September still might have some rainy days, which may affect Lukla's Flight, and cloudy days sometimes.
Spring Season
Spring is the second popular trekking season for the Everest Base Camp. It is also the Everest Expedition feast, so hundreds of climbers summit the world's highest mountain in the spring. You will see many tents at the base camp now, making the place like a mini mountain city.
Spring is warmer than autumn, so if you want to trek to Everest in a friendly environment, choose spring. However, there might be some snowfalls in the higher and hails in the lower region sometimes at this time.
Who Can Trek to Everest Base Camp?
For people who have a big goal to trek to Everest Base Camp, almost everyone can go there. However, the altitude can make it difficult. It should be easy if you are a regular hiker and have visited higher elevations above 4000 meters. So, trekking to higher altitudes earlier before attempting Everest Base Camp helps a lot, and a trip like the Annapurna Base Camp trek can be one example for you.
Adults find it easier than seniors, but all come from their stamina and practice. A regular elderly hiker can do better than a young trekker going to Everest Base Camp for the first time. It means the age factor is nothing compared to the stamina.
Trekking Preparation for Everest Base Camp
The most important thing is well-preparation for the trek, which significantly helps a successful trip. There are certain things to manage before going on any mountain trip and Everest Base Camp.
The first thing that you should know the Everest Base Camp Trek is a demanding trip, so you have to be mentally prepared by thinking I can do it. Of course! Thousands of people can do it, why not you? You must have heard about the difficulties you may face during the trek from friends, reading articles, or watching videos. After these things, you will be able to complete the trip.
Then it comes to physical training. We recommend hiking for at least a few days walk a few hours with around 5-6 kg daypack because you will carry this weight daily during your trek to Everest Base Camp. It will be best to do some altitude practice visiting higher elevations, which keeps you from getting acute mountain sickness problems.
You can also do some cardio and physical exercise for a few months for trekking preparation, which keeps you physically fit. While you do exercise, focus on running and leg training. You will walk on many up and downhills that can hurt your knee and thigh, so leg training protects you from this problem on the trek.
Besides the training and hiking, you must pack warm and quality equipment for the trip. Female trekkers should pack some extra things for the trek, so check details about trekking gear for males and females.
What Makes the Trek Meaningful?
Everyone wants to see something special, which makes the trip meaningful wherever they travel. Likewise, the Everest Base Camp trail also offers some magnificent sceneries and more, which you probably have never explored and experienced in other places. Check those things which make your trip a lifetime memorable from this mountain tour here:
Experiencing Adventurous Flight to Lukla
The Lukla Airport is considered one of the riskiest airports in the world by its location, quick changeable weather, runway length, and slope. You can land at this airport to start the trek to the Everest Base Camp. You will see magnificent mountain views of Ganesh Himal, Langtang, Sisapangma, Gaurishankar, Jugal, and more while flying towards Lukla.
Walking inside the Sagarmatha National Park, a Natural UNESCO World Heritage Site.
The Mount Everest Base Camp trekking trail remains inside the Sagarmatha National Park, a natural UNESCO world heritage site in Nepal. Walking inside this national park, You will see many natural attractions like green vegetation, flowers, rivers, waterfalls, wildlife, and more.
You will follow different valleys on this trek, such as Dudhkoshi River Valley, Khumbu Valley, and Imja Valley. You also see captivating landscapes, glaciers, and small glacial lakes along the way to the Everest Base Camp.
Sherpa Villages and see the Local lifestyle
You will walk through several traditional Sherpa Villages and see charming architecture with colorful roofs. The Serpa people are famous for mountain climbing, where you can learn about these people, cultures, religions, and lifestyles while trekking to Everest Base Camp. During the trip, you will also get great hospitality from the local Sherpa people.
Religious Monuments
It is a Buddhist region, so that you will see many religious monuments along the way on this trip. There are lots of Mani Rocks, Mani Walls, and Mani Wheels with the Buddhist Mantra, which make the trip spiritual feelings. You will also see numerous Stupas and Monasteries in different places. You can join the offerings in some monasteries during the trek, which may bless you for your successful trip. While you enter the offerings, you should follow their rule and regulations. Also, you must keep the religious monuments on your right by walking from the left side and making a clockwise direction.
Stunning Mountain Views
For travelers who plan to travel to Everest Base Camp, their primary purpose is to see pristine mountains, including the world's highest mountain Everest. You start seeing stunning mountain views when you fly to Lukla from Kathmandu and see amazingly standing Mt. Dudhkunda and Kongde from Lukla when you land.
While walking to Phakding on the first day, you see Kusum Kangaroo Peak from Ghat. You see Thamserku Peak from Bankar on the second day while you are walking to Namche Bazaar. After Namche, you hike to Hotel Everest View, so you see many high mountains while walking Everest View Hotel and from its yard during the altitude practice day.
Once you cross Namche Bazaar, you see magnificent views of the high snow-capped mountains every moment while walking and from vantage viewpoints like Tengboche Hill, Nangkartshang Hill, and Kala Patthar. These stunning mountain views add extra energy to walking in the high altitudes, and you will always enjoy seeing these views on the trek.
Besides the things mentioned above, reaching the foot of Everest, Lhotse, and other high mountains and being on the Khumbu glacier is a lifetime achievement of this trek.
Trip Cost for Everest Base Camp
The price for trekking to Everest Base Camp depends on service includes and group size. It means a single trekker has to pay more compared to more than one in a group. Just hiring a guide costs more than an inclusive trip, but the expenses of the trek come to the same as full-board at the end of the journey. Of course! Booking everything included trip is hassle-free and easy to travel. Check the price list below according to the Group size for Everest Base Camp:
1 trekker: 1490 USD - Push book this trip section above.
2-4 trekkers: 1350 USD - Book Now
5-10 trekkers: 1300 USD - Book Now
Note: We offer special discounts for family and group bookings. Contact us via email or WhatsApp at +977 9851043624 for a better offer.
Trekking Agency for Everest Base Camp: Local Vs. Overseas
So many trekking agencies operate trekking to Everest Base Camp from Nepal and overseas. Booking a trip with a local company costs much cheaper than any who arranges from out of Nepal.
Every travel operator from different countries collaborates with the local company paying their original cost. They keep their commission, so if you are a cleaver trekker, we suggest directly booking your Everest Base Camp trek with a local Nepalese company.
You will get factual information about the region if there is any change if you contact Nepal Based agency at any time. Still, getting information faster from your country's operator can take time. Almost every trekking operator uses an easy online payment that you can make, which is 100% safe.
Explore Everest with Frolic Adventure
Frolic Adventure is a team of trekking professionals who worked as trekking leaders for over two decades, guided trekkers to the Everest Base Camp, and started operating trekking trips. Our certified license-holder guides will lead to the mountain. We also arrange friendly and helpful porters to carry your trekking stuff from Lukla to Lukla. We focus on customer satisfaction and safety while they trek to Everest Base Camp with us. Remember us for the best price and smooth arrangement for your trekking trip to Everest.
Things to Know Before Planning a Trek to Everest Base Camp