The 'Everest Base Camp and Gokyo Lakes Trek' via Cho La Pass is in the Solukhumbu Everest Region. During this Trek, you visit the world's highest mountain base camp, two different viewpoints (Gokyo Ri and Kalapatthar) to see eye-captivating mountain views, and tranquil Gokyo lakes with the adventure experience of crossing Cho La Pass (5420m).
It is a combined Trekking package between two different routes: Everest Base Camp and Gokyo Valley. You can see four high mountains above eight thousand meters. Everest, Lhotse, Makalu, and Cho-Oyu are four of the eight mountains Nepal has. Beautiful glacial lakes, landscapes, valleys, flora, and fauna add prettiness to this Cho La Pass Adventure Trek.
Trekking to the Gokyo Lakes via Cho La Pass after visiting the base camp begins with a regular EBC trail for a few days up to the bottom of Mt.Everest and Kalapatthar and then goes to Zongla for Cho La. During this Adventure, you can also see two giant glaciers, Khumbu and Ngozumpa. You will make a circle during this Gokyo Everest Base Camp Trek, which means you only need to trek back on the same route except for the last day from Namche to Lukla.
Once you leave the regular Base Camp route and take a right toward Cho La, the trail will be quieter and have much fewer trekkers. You spend a night in Zongla before going to cross Cho La. It would be best if you started early in the morning to go over the pass to avoid the wind and reach the next destination on time. You get Thangnak for lunch after the Cho La. You can either stay in this place or trek to Gokyo in the afternoon after lunch. It takes another two hours to reach Gokyo from Dragnak and cross the colossal glacier Ngozumpa.
You can visit the 5th Lake, or Gokyo Ri in the morning on the next day. If you have one day in Gokyo, visit Gokyo Ri because it offers magnificent mountain views, probably the best of the Everest Himalayas, lakes, and glaciers. Visiting the 5th lake is a full-day excursion, so we recommend taking snacks from the lodge before heading on. You can see the whole body of Mt.Everest from this place, so if you have some extra days, visiting 5th Lake can be worthwhile.
The lodges are close to the 3rd lake, but the 4th and 5th are toward the north. You will pass the 1st and 2nd lakes while walking downward to Dole after Gokyo. You see ruddy shelducks around these lakes. Today, you walk through Fanga, Machchhermo, and Luza before you arrive at Dole to stay.
After Dole, You descend for around an hour through rhododendron and pine forests. There are some beautiful ice climbing sites where people climb during the winter. You can also see musk deer inside this forest while descending to Phungki-Tenga. After Phungki-Tenga, the trail goes upward for about an hour and a half to Mong Danda. There are Himalayan Thars (wild Himalayan goats) around the walking path. You can see celestial views of Mt.Thamserku, Khangteka, and Amadablam from this hill, and then start descending towards Sanasa, where the Everest Base Camp trail joins back. Today, you reach Namche Bazaar and Lukla the following day before taking a flight to Kathmandu.
Frolic Adventure managers are well-known about the Trek and update you about any changes in the route, so you can always get factual information before you book your Cho La Pass Adventure Trek. We are a legally authorized trekking operator from the Nepal Tourism Board (NTB), providing government license holders with English-speaking guides and helpful, friendly assistance.
What to expect from the Cho La Pass trek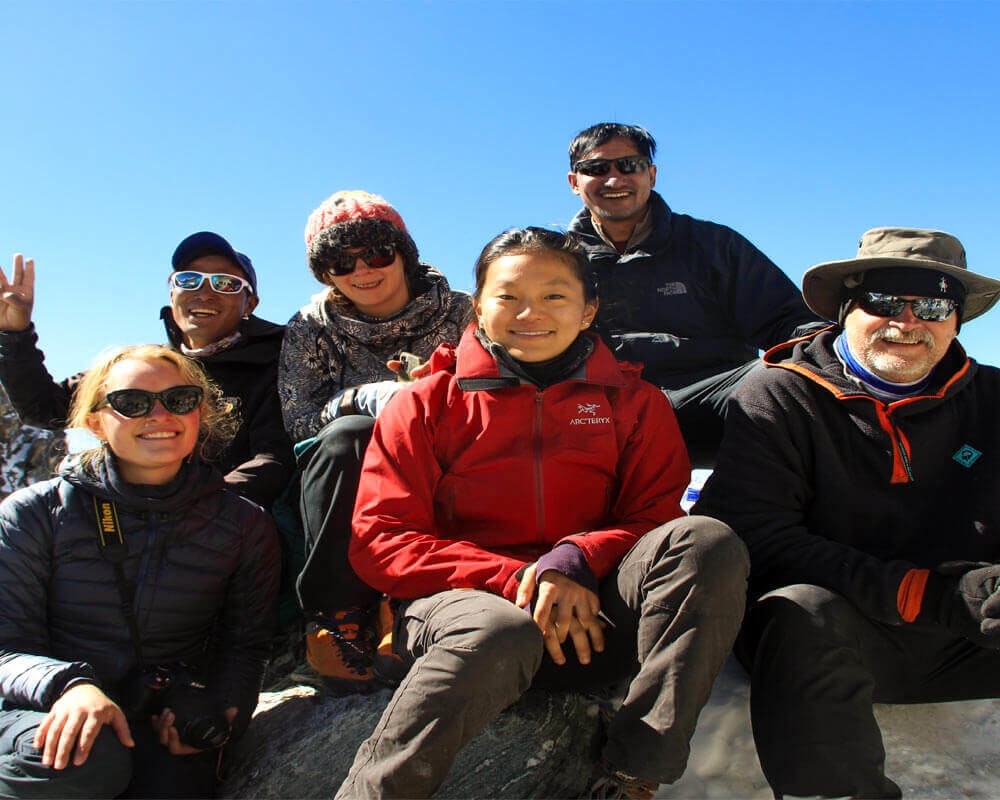 Trekkers on Cho La Pass during Everest Base Camp and Gokyo Lakes Trek
You will be walking through different Himalayan valleys, such as Dudhkoshi River Valley, Khumbu Valley, Imja Valley, and Gokyo Valley, with mind-blowing mountain views most of the time.
The natural beauties such as Rivers, waterfalls, and vegetation from the Sagarmatha National Park (a natural UNESCO world heritage site) graced the EBC Gokyo Trekking route.
The Sherpas are world-famous for mountain climbing. With great hospitality, you can see their lifestyle, activities, culture, and tradition.
Unreal mountain views from vantage viewpoints such as Hotel Everest View, Tengboche Hill, Nangkar-Tshang Hill, Kalapatthar, and Gokyo Ri make you feel like you are in absolute heaven while doing the EBC Gokyo Trek via Choa La Pass.
Step to the foot of the world's tallest mountain and reach very close to the famous Khumbu Icefall.
Explore balmy Gokyo Lakes and glacial ponds, and cross giant glaciers with the moonwalk feeling.
See wildlife like Himalayan Thar, musk deer, Himalayan pika, and birds like mountain hawks, ravens, Tibetan snowcocks, golden Brahminy ducks, Himalayan Monal, and many more.
Visit the ancient Religious Buddhist monastery and join regular offerings with the monks.
Meet the Everest climbers in the Sring.
Everest Base Camp, Gokyo Lakes: Who can go on this Trek?
The 'Everest Base Camp and Gokyo Lakes Trek' is a challenging mountain trek. It could have similar difficulties as the Base Camp Trek most of the time, but the Cho La Pass makes it more adventurous and difficult. If you are a regular hiker and have visited places higher than 4000 meters above sea level several times, It should not be a problem. However, if you are a first-time trekker, we suggest short treks in Nepal or other Himalayas before going on the Cho La Pass Trek.
Altitude and thin oxygen in the air make breathing difficult while walking in the high Himalayan region. There is ice on the trail near the Cho La pass, and even a bunch of it sometimes heaps up. It is strenuous to walk around the top of this hill.
Going over the Cho La Pass from the Gokyo side to the Base Camp
You might have seen different trekking itineraries for the Everest Gokyo Trek and need clarification about which are the better routes. For your clearance, visiting the Base Camp first and going to the Gokyo Lakes later is a more accessible itinerary because you will have less climbing. If you go over the pass from Zongla, you feel like climbing only a little, but starting to rise from Thangnak is tiring uphill for many hours. But if you will have knee problems from a long downhill walk, crossing from the Gkyo side is recommended.
Also, starting early in the morning with a flashlight to cross Cho La from Thangnak would be best. If you first go for the pass from Zongla after the Base Camp, you can start with daylight. Although you have to start earlier than the other regular Trekking days,
How do I prepare for adventure Trekking and the Everest Base Camp Gokyo Lakes?
Most everyone who dreams about Adventure Trekking in the Himalayas can complete the Everest Gokyo Lakes Trek, but they need some hiking and altitude practice. You can often hike somewhere in nature where the trails are up and down hills and visit some of the high elevations above 4000 meters by doing some short treks. Those who do not have hills and mountains for hiking and Trekking in their country can do indoor practices with high atmospheric pressure, such as running and jogging.
Hill hikes, weight lifting, running, and jogging exercises make your muscles strong and flexible to walk in the high Himalayan region. In the Everest Himalayan Region, prepare to carry a few kilograms of daypack for 6-7 hours of walking daily for 15–16 days.
Besides the physical preparation, you must mentally prepare to Trek to Everest Base Camp and Gokyo Lakes. Be ready to face any difficulties during the trip, such as changing weather during the Trek, what to do if the Lukla flight has been canceled, staying in basic lodges with no showers every day, and altitude sickness.
Everest Base Camp and Gokyo Lakes Trek Map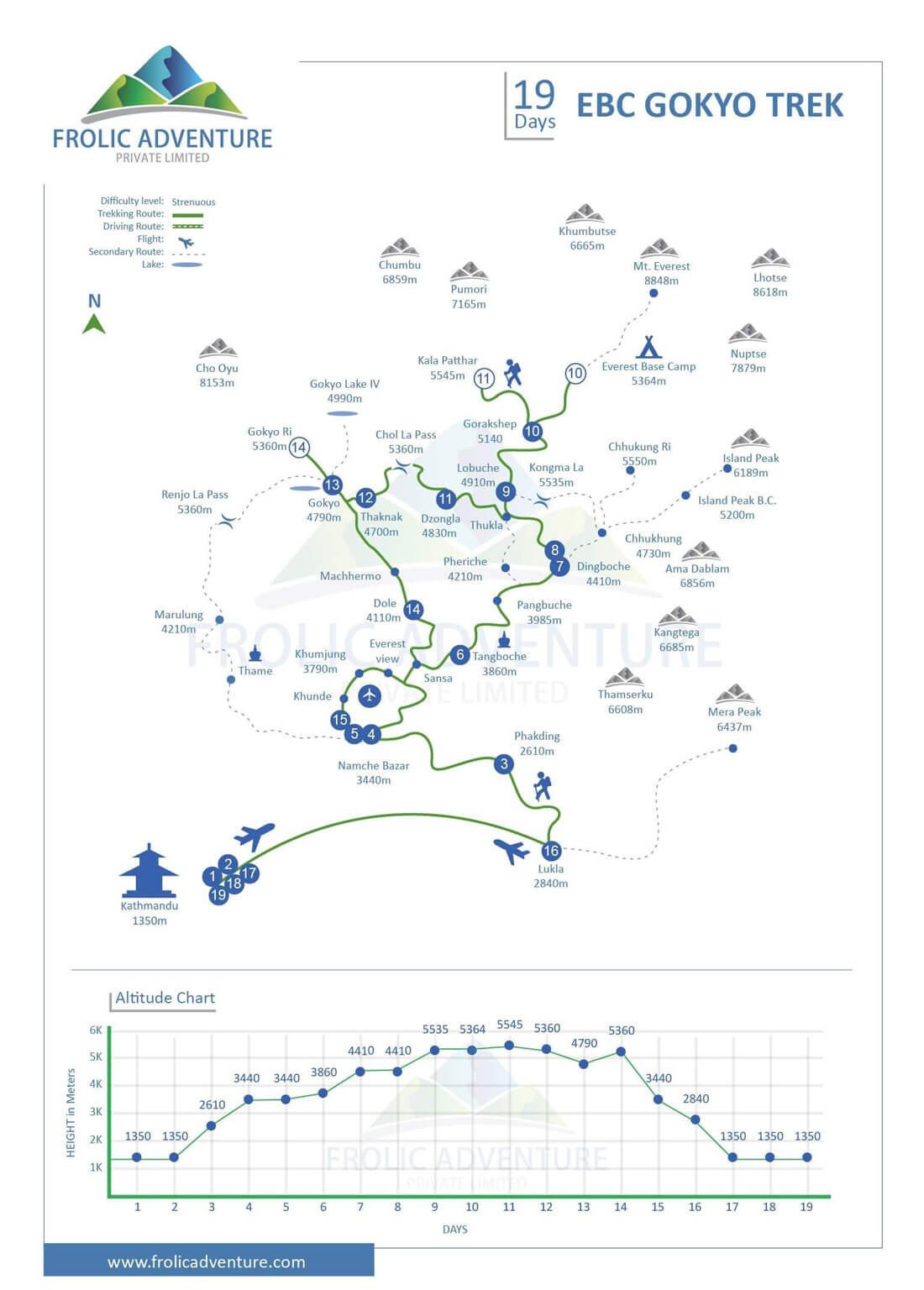 Everest Base Camp and Gokyo Lakes Trek Map with altitude details
We have made a 19-day Everest Base Camp and Gokyo Lakes Trek Map, which starts from your arrival in Kathmandu until your departure home. You will meet our airport representative at the Kathmandu international airport on the first day, who will take you to the hotel. According to our Trekking Map of Everest Base Camp and Gokyo Lakes, you will have a full-day Kathmandu Day Tour on the second day. After visiting Kathmandu's cultural heritage sites, you return to the hotel and prepare for the Trek.
Throughout our 19-day trekking map, you fly to Lukla on the third day and trek for 14 days in the mountains, including some altitude practice rests in Namche Bazaar and Dingboche. While completing this counter-clockwise (anti-clockwise) Everest Base Camp and Gokyo Lakes Trek Map, you visit several viewpoints like Syangboche Hill (Hotel Everest View), Tengboche Hill, Nangkar-Tshang Hill, Kala Patthar, and Gokyo Ri, including the Everest Base Camp and pristine Gokyo Lakes.
After finishing our Trekking Map of Everest Base Camp and Gokyo Lakes via Cho La Pass, you will love the Trek.
Note: It is not compulsory to stay with this Map because it is designed with some extra days carefully planned for the Lukla flight and weather. We can make a suitable Trekking itinerary for you according to your time and stamina.
Go on a Trek now to explore Everest Base Camp and Gokyo Lakes.
After learning about Trekking from Everest Base Camp to Gokyo Lakes via Cho La Pass, you can explore the beauty of this Himalayan region. We are taking bookings for this adventure Everest trip for 2023 and 2024, so you can make your seat safe now.
You can book the trip directly through the 'book this trip' section or contact us page by asking any trip-related questions. We have a special discount for group trekkers to the Everest Gokyo Lakes. and are also ready to make itineraries according to your time frame and physical fitness.
For more details, please check the helpful information and the cost detail sections: