The Everest High Passes Trek covers Three major hills to cross; that's why it's also famous as the Everest 3 Passes Trek. It is the most adventurous Trekking trip in the Khumbu-Everest Himalayas and goes clockwise or counter-clockwise.
Trekking to the Everest Three Passes begins from Lukla after taking a short scenic flight to Lukla from Kathmandu or Ramechhap (Manthali). You stay with the same Everet Base Camp Trek itinerary until Namche Bazaar for the first three days of this trip, even if you are taking clockwise or anti-clockwise routes.
This Adventure Everest Three Passes Trek offers all the attractions of the Everest Himalayas, such as iconic high mountains, captivating landscapes, attractive valleys, charming nature, pristine lakes, ancient Buddhist monasteries and monuments, and more. If you are adventurous and go to the mountain regions, often spending around Three Weeks in Nepal, this Trek can be the best for you. Now, let's have some information on two different Trekking routes of the Everest Three High Passes Trek here:
Clockwise Trekking Routes of the Everest Three Passes Trek
Clockwise Trekking Routes to the Everest Three High Passes trek go left from Namche Bazaar to Thame on the fourth day. Then, you ascend to Lungden on the fifth day and go over Renjo La Pass to Gokyo Lakes. Then, you visit Gokyo Ri and cross Ngozumpa Glacier before reaching Thangnak to go over Cho La Pass. Now, you Trek to Everest Base Camp and return to Lobuche to go over Kongma La Pass through the Khumbu Glacier. After the final High Pass, Kongma La, you reach Chhukung, visit Chhukung Ri, and then trek down to Lukla through Dingboche, Tengboche, Namche, and Phakding. Check out the outline Itinerary for Clockwise Everest Three Pass Trekking below:
Day 1: Fly to Lukla (2840m) and Trek to Phakding (2610m). 3 hours
Day 2: Trek to Namche Bazaar (3440m) 6-7 hrs
Day 3: Rest in Namche Bazaar and hike to Hotel Everest View (3880m) for 4 hours.
Day 4: Trek to Thame (3750m) 4-5 hrs
Day 5: Trek to Lungden (4500m) 6 hrs
Day 6: Trek to Gokyo (4790m) via Renjo La Pass (5360m) 8 hrs
Day 7: Hike to Gokyo Ri (5357 m) for 2 hours and overnight in Gokyo.
Day 8: Trek to Thangnak/Drangnak (4700m) 3hrs
Day 9: Trek to Zong La (4855m) via Cho La Pass (5360m) 7-8 hrs
Day 10: Trek to Gorakshep (5180m) 5–6 hours and hike to Kala Patthar (5550m). 2 hrs
Day 11: Hike to Everest Base Camp (5364m) and Trek back to Lobuche (4910m). 6-7 hrs
Day 12: Trek to Chhukung (4730m) via Khumbu Glacier and Kongma La Pass (5535m) 8-9 hrs
Day 13: Trek to Tengboche (3860m) 6 hrs
Day 14: Trek back to Manche Bazaar (3440m). 5 hrs
Day 15: Trek to Lukla (2840m) 7 hrs
Day 16: Fly out to Kathmandu
Note: The Clockwise Everest Three Passes Trek Itinerary can be changed according to your time and physical fitness.
Counter-Clockwise Route for the Everest Three Passes Trek
The Counter-Clockwise Trekking Itinerary of the Everest High Passes Trek is comparably easier than the Clockwise one. This route goes to Everest Base Camp first, then to the Gokyo Lakes and Thame later. At the start of this Anti-Clockwise Everest Three Passes Trek from Lukla to Namche Bazaar, the same itinerary goes right towards Tengboche Hill on the fourth day.
You go to Dingboche and Chhukung and go over the Kongma La pass to cross the first hill of the Three Big Hills. Now, you Trek to Everest Base Camp and go over the Cho La Pass to visit Gokyo Lakes and Gokyo Ri. After spending a few nights in Gokyo, you go over Renjo La and reach the Himalayan hidden valley (Thame) before meeting Namche Bazaar. Then, you Trek to Lukla to fly out to Kathmandu at the end of the trip. For the detailed Itinerary of the Anti-Clockwise Everest Three Passes Trek Itinerary, check our package's Itinerary section.
Everest High Passes: Clockwise vs. Anti-Clockwise Route
You can find two different Trekking itineraries for the Everest High Passes, taking Clockwise and Anti-Clockwise routes, online. It might make it difficult to choose the Route. What are the differences between these two routes of the Everest Three Passes? Which Route is more difficult to take? Check them out below:
The counter-Clockwise Route is easier with less climbing than the Clockwise Route of the Trek. You can see the altitude variation in the Itineraries between these two routes. If you take the Anit-Clockwise trail, you do not miss visiting the world's highest mountain base camp, but if you get tired from the first pass, you may miss the chance of going to Everest Base Camp from the Clockwise route.
Everest Three Passes Trek Cost
The Cost of the Everest Three Passes depends on the services offered, length, and group size. Hiring just a guide costs less than the all-inclusive one, but the expenses are similar to the full board at the end of the Trek, even if you pay for food and lodges in the mountains.
It Costs 950 USD–1550 USD for a single trekker, but the costs might be less if you book this trip in a group. Check the Trek Cost for the Everest High Passes according to the group size below:
We provide special discounts for family and group bookings above 4 people for this Trekking Package. To get a better offer, contact us through WhatsApp or direct email.
Everest Three Passes Trek Map
Here, you see the 20-day Everest Three Passes Trekking Map, which begins with your arrival in Kathmandu and ends with your final departure home. According to our Trekking Map, you will meet our airport representative and take private transport to the hotel.
You have a full-day Kathmandu City Tour on the second day and fly to Lukla to begin the trek on the third day through this Trekking Map of the Everest Three Passes. You stay in the mountain from the third day to the sixteenth for 14 days, which goes a counter-clockwise route to cross Kongma La, Cho La, and Renjo La, including Everest Base Camp, Gokyo Lakes, and Gokyo Ri. Check the Itinerary below with altitudes here: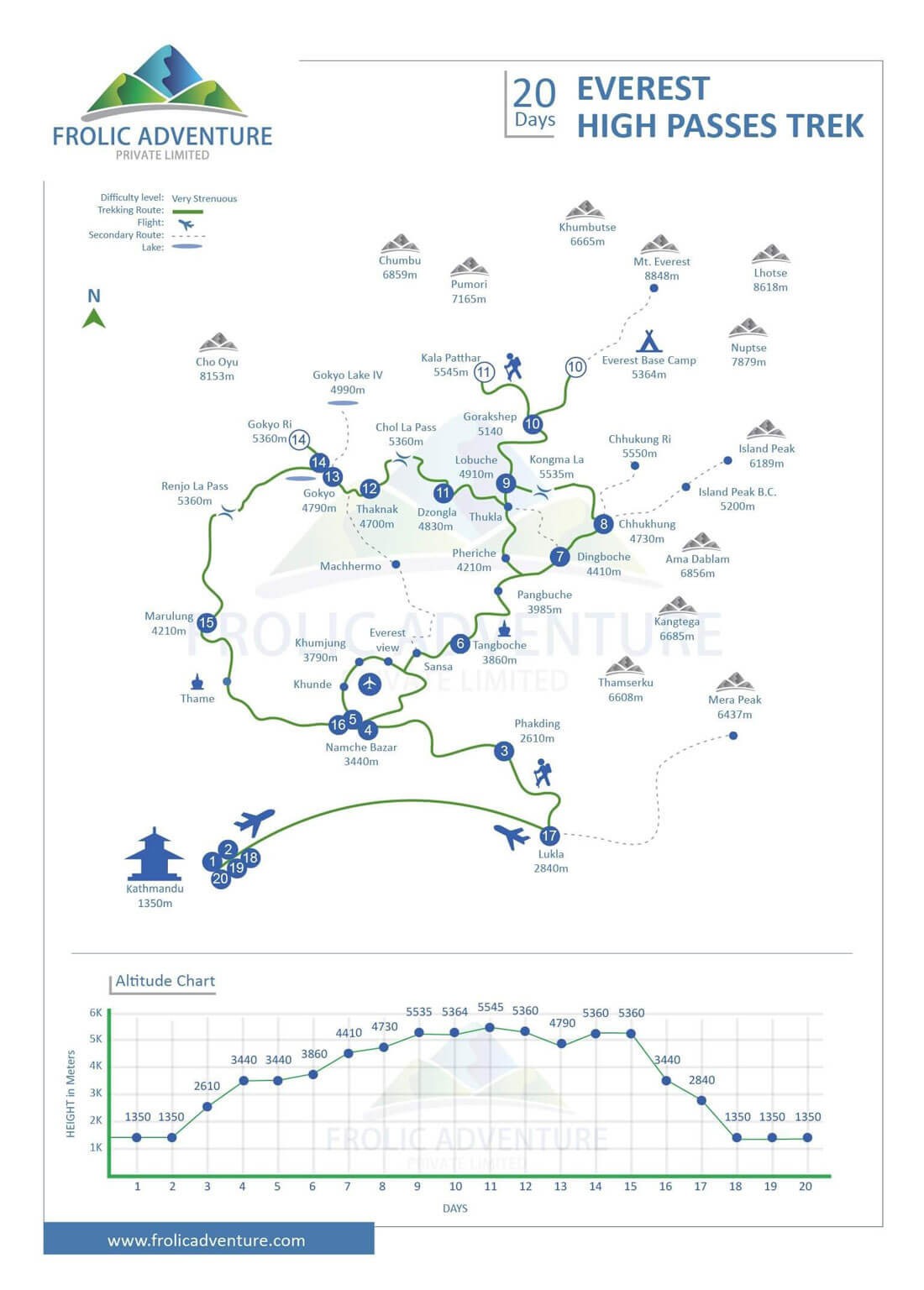 Everest Three Passes Trek Map with Altitude Detail
Preparation for Adventure Treks and Everest High Passes
Crossing the Three High Passes is difficult, so you must be physically fit and mentally prepared for this Trek. Make it your mindset to face any difficulties you might encounter on the High Pass Trail. Mind control is for the body, so if you make your mind strong and think, I can do it. Then, it makes you more comfortable.
After the mental preparation, you must be physically fit for this adventurous trek. Visit somewhere in the Himalayas at high altitudes above 4000m a couple of times, such as the Annapurna Base Camp Trek in Nepal, for altitude practice.
Start hiking regularly, or at least once a week, on the uphill and downhill trails for a few hours with 5–6 Kg of weight on your back. You can also do some physical exercise and juggling every day for about a month and do leg exercises like thigh, knee, calf, and ankle. You have many uphill and downhill trails for many days, so this type of trail can cause body and leg pain if you are not a regular hiker or have not done any physical exercises.
Trekking Gear for Everest High Passes
The trekkers who plan this adventure trek already know how to pack trekking gear well because regular trekkers dare to do this. Having nice, quality equipment is crucial to a successful mountain trip. You can pack some regular trekking gear as you do for other mountain treks, but you might need to pack some extra equipment for the Everest Three Passes Trek. Check them out below:
Duffel bag or rucksack
Daypack
Thermal layers
Breathable underwear
Trekking shirts (long and short, according to the season)
Trekking trousers (long and short, according to the season)
Windproof jacket
Windproof trousers
Fleece Jacket
High-neck shirts
Down jacket
Winter gloves
Light gloves
Sun hat
Winter hat
Buff
Trekking boots
Trekking socks
Sport shoes
Water sandals
Woolen socks for the night
Crampons
Walking stick
Water bottles or camelback
Sleeping bag
Earplugs
Besides the above-listed Trekking Gear for the Everest Three Passes Trek, you must pack sunglasses, sun lotion, lip balm, baby wipes, a first-aid kit, moisturizer cream, body spray, toiletries, extra camera batteries, and a power bank for battery charging.
What to Expect from the Everest High Pass Adventure Trek
The first thing to expect from this High Pass Trek is the pride of an adventure. Walking through traditional villages and lush forests for the first few days after the scenic flight to Lukla, you reach the open surroundings and see magnificent mountain views.
You walk through charming valleys and see captivating landscapes along the way on the Everest Three Passes Trek in the Everest Region. Vantage viewpoints like Hotel Everest View, Tengboche Hill, Nangkartshang Hill, Kala Patthar, Kongma La Pass, Cho La Pass, Gokyo Ri, and Renjo La Pass offer alluring views of the high mountains, including the four highest mountains above eight thousand meters.
During this adventure, you also walk on two massive and famous glaciers, Khumbu and Ngozumpa. Stepping on the foot of the world's tallest mountain is also the great achievement of the Trek. Seeing pristine glacial lakes such as Gokyo Lakes is another trip attraction. Besides the natural attractions, seeing wildlife and religious monuments adds extra excitement to the Everest High Pass Trek. You will surely love the great hospitality from the locals during your Everest High Pass journey.
Everest High Pass: What makes the Trek difficult?
The considerable difficulty of this adventure, the High Passes Trek, is altitude sickness. Coming from sea level and flying directly to Lukla (2840m) is already high enough. You reach 5500 people plus within a few days of walking, but you have some acclimatization rest days in the lower areas like Namche Bazaar and Dingboche. However, the high altitude may not be an issue for everyone. Only a few trekkers might get altitude sickness on this Trek.
Trekking camps, especially while crossing the High Passes, are long. It would help if you started walking early in the morning with a flashlight to go over the Pass. These walks might make the trek tiring and difficult. These areas have long ascending and descending trails, which can cause knee pain.
Crossing the glaciers is also not easy because the glaciers melt and change the walking routes every year. If you follow the wrong direction after seeing some trails, you might miss the main path, so always walk with the guide. Getting food during the High Passes is also difficult. No lodge or restaurant is in the middle when you go over the Pass from one place before reaching the next for 7-8 hours. Taking some energy bars or snacks for the High Pass trails is better.
Get an Adventure Experience from the Everest High Passes.
Frolic Adventure has been operating the Everest High Pass Trekking trips since 2016. We provide experienced and knowledgeable trekking guides for this Trip at a competitive cost. Our motto is your satisfaction and safety, so remember us for your adventure Trek in the Everest Himalayas.