Annapurna Base Camp Trek – also famous as the 'ABC Trek' is an illustrious journey in the Annapurna Himalayas, which brings you very close to the high mountains like Annapurna I, Annapurna South, and many more. It is a 10-day natural and cultural trip where you explore the charming natural attraction of green forests, flowers, rivers, waterfalls, white mountains, and more with Nepal's Gurung and Magar culture.
The Trekking trail leads through various climates, landscapes, and typical villages up to the Annapurna Base Camp. You will see magnificent views of high snow-capped mountains like Annapurna I, Himchuli, Baraha Shikhar, Tent Peak, Gangapurna, Machhapuchchhre (Fishtail), and more from the Base Camp. Sunrise and Sunset colors on these high mountains look superb, which you can see from your guesthouse.
Trekking to Annapurna Base Camp is a moderate-l, so everyone with healthy determination can complete this trip. It can be a practice trip before the high passes adventure treks and the Everest Base Camp.
You will walk through several terrains and landscapes while trekking to the Annapurna Base camp. It is also famous as the Annapurna Sanctuary Trek. The Annapurna Sanctuary is inside the Annapurna Conservation, rich in various flora, fauna, and other natural attractions with Gurung and Magar culture. Before reaching the Base Camp, you will walk through terraced rice fields and typical villages to dense rhododendron, oak, and bamboo forest.
10-Day Annapurna Base Camp Trek Itinerary Overview
The 10-day Trekking Itinerary of the Annapurna Base Camp begins from Pokhara with a drive to Birethanti on the first day and treks to Ulleri through Matathanti, Lamo Duwali, Sudame, Hile, and Tikhedhunga. It is a pretty easy day, but the last part to Ulleri will be tuff because of ascending trail with 3000 plus stone steps.
After spending the first night in Ulleri, you trek to Ghorepani on the second day through a dense rhododendron forest. If you are on this trek in Spring, you will see nicely bloomed, colorful rhododendron flowers in the jungle.
On the third day, you hike to Poon Hill to see divine sunrise and magnificent views of Dhaulagiri and Annapurna massif and walk back to Ghorepani. After breakfast, the trek goes to Tadapani, walking through the deep forest again. The trip goes to Chhomrong on the fourth day through long down and uphill trails. The Chhomrong is one of the big Gurung villages on a lap of small hills.
After Chhomrong, the trip goes to Dovan on the fifth day. The trail goes downward through Chhomrong Village for about half an hour and ascends to Sinuwa for an hour and a half. The trail enters the forest again after Sinuwa and goes through a deep valley of the Modi River. There are charming waterfalls along the way to Dovan and dense bamboo bushes.
After Himalaya Hotel, the trip goes to Deurali on the sixth day and the Annapurna Base Camp on the seventh through Machhapuchchhre Base Camp (MBC). When you reach close to MBC, the scenery changes dramatically with open views of the high mountains. You will see the magnificent color of the Annapurna Mountains in the evening with the sunset and see the massive Annapurna Glacier from very close.
After enjoying the sunrise view over the Himalayas, the trip returns to Bamboo through the same route on the 8th day and Jhinu Danda on the 9th. In Jhinu Danda, you enjoy hot springs and drive to Pokhara on the tenth day to complete the trek.
Note: This 10-day Itinerary is a classic one for usual trekkers, but you can do it in 9 days if you are a regular and experienced hiker.
Trek Map of Annapurna Base Camp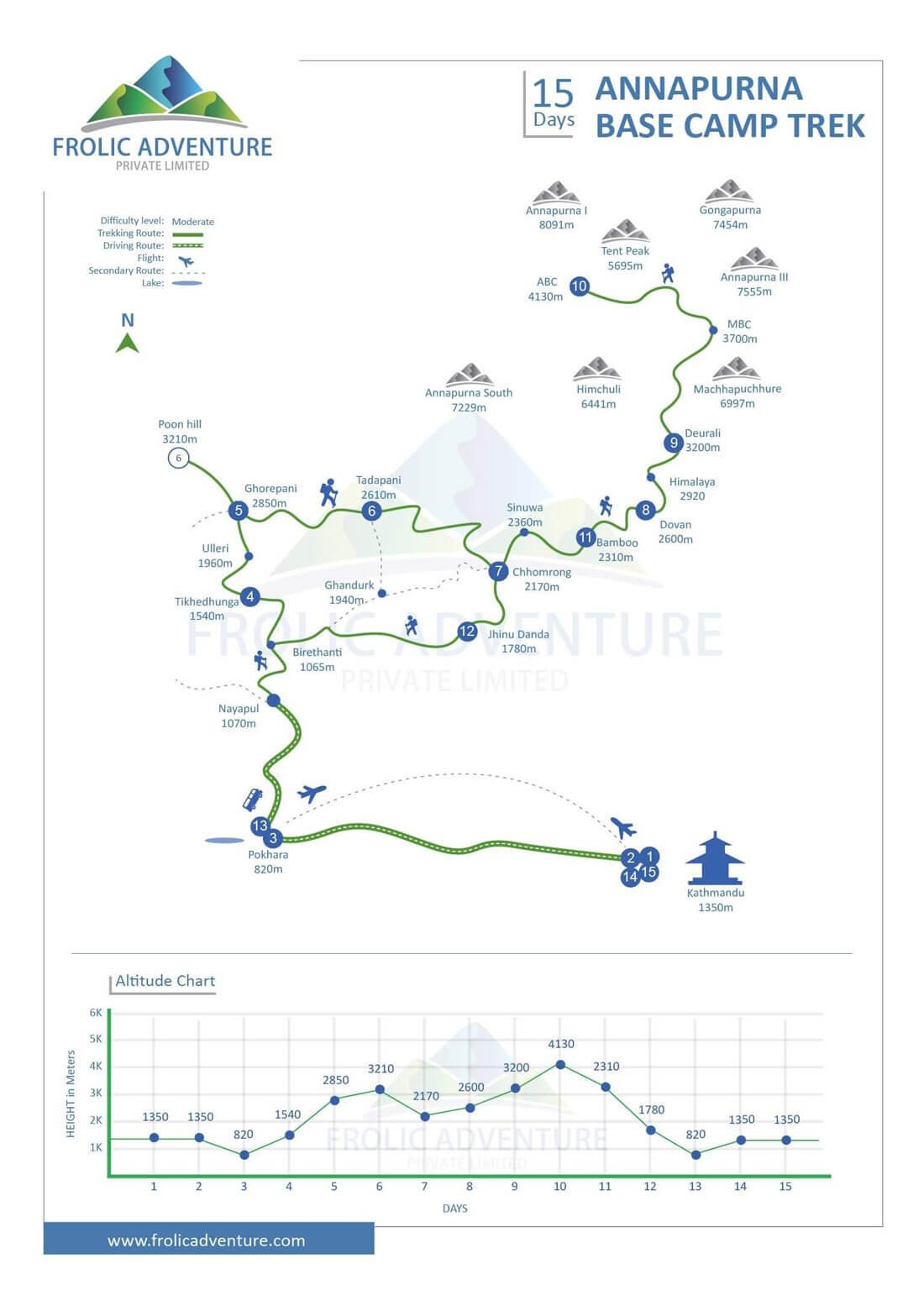 Annapurna Base Camp Trek Map with altitude detail
Frolic Adventure has set a 15 days trekking map for Annapurna Base Camp, which start counting the day with your arrival at Kathmandu International Airport and ends with the final departure to your home. According to our trekking map, you spend nine nights in the mountains and arrive in Nepal's second-biggest city Pokhara on the 10th day of the trek.
Upon your arrival in Kathmandu, our airport agent will pick you up with a warm greeting and takes you to the hotel in private transport, where you will meet our tour operator and talk about the next day's program.
The second day of the trip map sets for a full-day Kathmandu tour when you visit four world heritage sites of UNESCO Kathmandu Durbar Square, Monkey Temple (Swayambhunath), Bouddhanath, and Pashupatinath (see open cremation) and prepare the trek in the evening.
After two nights stay in Kathmandu, the third day goes to Pokhara. We provide a tourist bus according to the service inclusion. You can fly instead of taking a long bus drive. You stay one night in Pokhara before the trek starts and another after the trip.
Our trip map of the Annapurna Base Camp trekking is dedicated to regular trekkers, but it can be changed according to your time and fitness. Also, for those who do not have enough time to complete a 10-day itinerary, we arrange a d-day short ABC Trek through different routes.
Best Time or Season to Trek to Annapurna Base Camp
Autumn and Spring are two recommended trekking seasons to trek to Annapurna Base Camp. However you can also hike in winter, but there are better times than summer. You will cross several wooden bridges over streams. The bridges stay slippery due to rain; it can not be safe to trek in the monsoon to the Annapurna Base Camp. Also, it rains a lot, and deep clouds cover the mountains. Check the information on the ideal trekking seasons to ABC below:
Autumn Season
September brings autumn and stays until November. It is the busiest and the best time to trek to Annapurna Base Camp. Nature looks fresh, and the mountains are bright at this time in the Annapurna region, so we recommend visiting ABC in autumn for everyone. However, the first half of September still might have some rainy days, and clouds cover the mountains. The waterfalls are significant and attractive in September on the ABC trail.
There will be considerable numbers of trekkers on this trail in autumn, which can cause difficulties in some cases, like lack of accommodation. You might have to share a dormitory bed for a few nights, like at Himalaya Hotel, Deurali, and Annapurna Base Camp.
Spring Season
March to May is considered the spring season in Nepal, so it is also the best time for the Annapurna Sanctuary trek. It is a warm season compared to autumn, but some snowfall might be near the Base Camp. You see the magnificent forest around the Ghorepani Poon Hill area at this time with blooming rhododendron.
Trekking Preparation for Annapurna Base Camp
The ABC Trek is relatively easy. However, it is a mountain trip, so you must prepare well. First, you must be determined to be mentally prepared to trek to Annapurna Base Camp. It is better to read some articles about ABC Trek and watch videos that provide trip-related information.
After the mental preparation, the most important thing to be well prepared for the ABC Trek is physical training and exercises. It is recommended to hike a few hours every day or at least once a week for a few months before you go to Annapurna Base Camp. Remember to carry around 5-6 kg weight on your back while hiking because you will take this much on your daypack during the trek.
Besides hiking, you can also run a few kilometers/miles daily, suitable for cardio and leg exercise. If your legs are fit, knee and thigh shore won't be any problem from many up and downhill trails.
Annapurna Base Camp: What Can You Expect from the Trek
Divine Mountain Views
You will visit Poon Hill on the second day during the ABC Trek, which is a stunning viewpoint. You see divine mountain views of the Annapurna and Dhaulagiri ranges with unblocked sunrise. Not just from Poon Hill, you see a similar view of Poon Hill while walking to Tadapani. Tadapani is also located on a hill station, so you see magnificent views of Mt. Fishtail and other tall mountains again.
You won't see many mountains after Chhomrong until Machhapuchchhre Base Camp because you will walk through a deep valley. Once you reach MBC, you will be above the tree line, and there is nothing to block the mountains. The views in the morning with the sunrise and in the evening with the sunset look mindblowing from the Annapurna Base Camp.
Walking Through Charming Nature
You will be walking through charming nature while trekking to Annapurna Base Camp. Green vegetation, flowers, Bamboo bushes, and more provide fresh air along the way in this trek. You will see many rivers and waterfalls on the side of the walking trails from the beginning until the Base Camp.
Experiencing Gurung and Magar Culture
The Annapurna region is home to Gurung and Magar ethnic people. These people have their own culture and customs. These people have been famous as the brave Gurkha in Indian and British regiments for a long time. They also do farming and gather in one place in the evening after a whole day of work in the field to sing and dance, which calls 'Rodhi.' You also have an opportunity to see this kind of program and join with them sometimes.
Trip Cost for Annapurna Base Camp
The trekking cost for the Annapurna Base Camp abstains from the service inclusion and number of people in the group. We operate a full-board trip, which includes a guide, porter, lodge, food, and legal paper for the trek, with heritage tours in Kathmandu. We also provide a trekking guide service if you want to hire a guide for the Annapurna Base Camp. Taking a guide seems cheaper initially, but the total costs come to the entire board in the end, and it may be vexing to manage things yourself. Check the price of the trek according to the group size below:
1 Trekker: 1050 USD - Book the trip uper right botton
2-4 Trekkers: 900 USD - Book Now
5- 10 Trekkers: 850 USD - Book Now
We offer special discounts for more than two trekkers and families. Please get in touch with us through email or WhatsApp at +977 9851043624 to grab our special offer for this trek.
Trekking Agency for Annapurna Base Camp: Local Vs. Overseas
Hundreds of local and overseas trekking agencies are operating trekking trips to Annapurna Base Camp. You get a better offer from the local operator than an overseas one for this trek. Some people might be worried about payment difficulties and how trustworthy the local companies are before booking their trip.
You might have many questions about the trip before you go there, so the local agencies are well-update with every new change on the trekking route than overseas agencies. Hence, you get genuine information prompts if you book the trip with the Nepalese operator.
Explore Annapurna Base Camp with Frolic Adventure
After getting information about the trek, length of the trip, attractions, cost, and more, you should consider trekking to Annapurna Base Camp. Yes, you are thinking right that you are choosing a top destination to travel. Frolic Adventure provides you with an experienced guide who is certified by the Nepalese government.
We have been operating this trip since 2016 after guiding many trekkers to Annapurna Base Camp for over two decades. Remember us for a reasonable cost for your ABC Trek in Nepal.