The Langtang Valley Trek is the nearest mountain trip from Kathmandu that takes you close to the high Himalayas within a few days. It is a cultural journey that offers a fusion of the Nepalese and Tibetan lifestyles. The Langtang Valley is a short and easy trek in Nepal that suits beginners, families, and people with limited time for a mountain trip in Nepal.
Trekking to the Langtang Valley is inside the Langtang National Park. This national park has more beautiful birds than the other national parks in Nepal. So, this trip can also be one of the best destinations for birdwatchers.
Endearing nature, beautiful landscapes, the beautiful Himalayas, the warm hospitality of the locals, and the melodic tone of the birds bewitch the visitors on the Langtang Trek. Glide rivers and waterfalls provide extra charm to the hiking trail. Wild animals like Himalayan langurs, barking deer, red pandas, Himalayan black bears, and many other mammals live around the trekking route in Langtang National Park.
This short and easy Langtang trek begins from Kathmandu with a long drive to Syabrubesi through the hillside road. After driving for about 7-8 hours, you reach Syabrubesi and stay overnight. You start walking from Syafru and then go to the Lama Hotel on the first day. You will follow the Langtang River with several crossings on suspension bridges. You will see big marijuana fields naturally growing in the forest, waterfalls, a dense forest of oak, rhododendron, and others, beehives, wild animals, and beautiful birds along the Trekking trail today.
On the second day of the Langtang Trek, go to the Langtang village. The earthquake badly hit this village on April 25th, 2015. There was a massive avalanche that covered the whole town. But the village has been reconstructed with lovely buildings now.
The last destination of the Trek is Kyanjin Gumba, where you reach Langtang village. You can visit a cheese factory and monastery in the afternoon in Kyanjingumba. You can make day trips to Kyanjin Ri, T-SKU Ri, Langsisa Kharka, or Lirung base camp from the Kyanjin Gumba. You can see the nearest views of Langtang Lirung, Yala Peak, Langsisa Peak, Ghyangchhempo, Dorjelakpa, and many other snow-capped high mountains from viewpoints like Kyanjin Ri and T-Serkori.
After beautiful memories of the Langtang Himalayas, the Trek returns the same way to Lama Hotel and Syabrubesi before the drive back to Kathmandu.
Langtang Valley Trek Map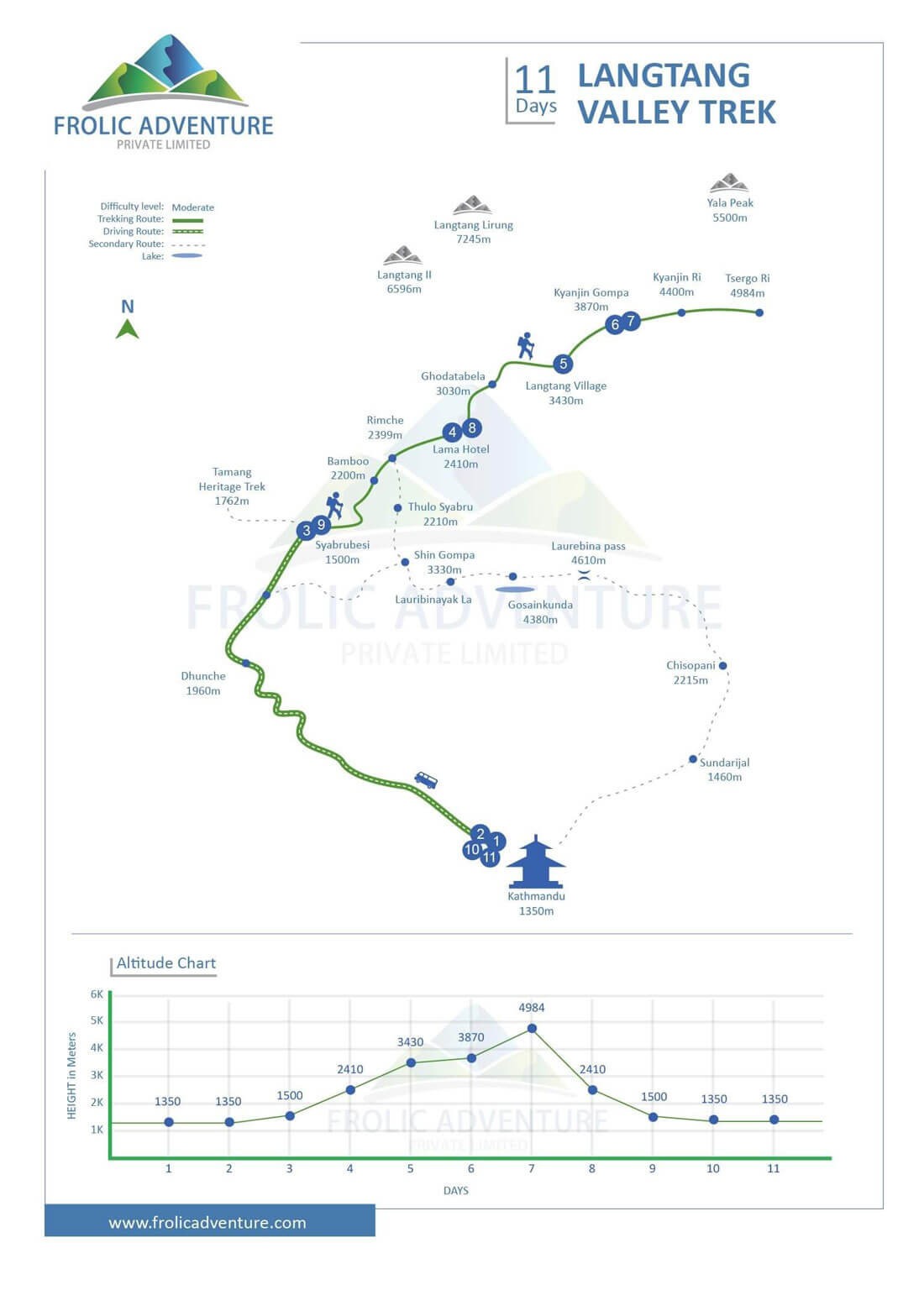 Langtang Valley Trek Map with altitude detail
Our 11-day Langtang Valley Trek Map is set for your 'Nepal stay' from the Kathmandu international airport to the final departure to your home. According to this Trekking Map of the Langtang Valley, our airport representative will pick you up from the international airport on the first day and transfer you to the hotel.
You will have a full-day Kathmandu City Tour when you visit Bouddhanath, Pashupatinath, Kathmandu Durbar Square, and Swayambhunath with an experienced tour guide and private transport before you depart for the Trek. Then, you depart for Syabru Besi on the third day to visit Langtang Valley and stay seven nights in the mountain.
Langtang Valley-Trekking Difficulties
Trekking to the Langtang Valley is an easy trek in Nepal. There are a Few Difficulties, although traveling to the mountain region should be uneasy. The first thing is a long drive from Kathmandu to Syafrubesi on a public bus, which can be tedious. The road to Syabrubesi is narrow with lots of turns and goes through a hilly region.
If you feel uncomfortable with a public bus, you can drive to Syabrubesi in a jeep that you can hire privately. The private jeep can be comfortable and quick for you. If you hire a private jeep to go to Syabrubesi, you can stop whenever you want if you see some beautiful things during the drive.
The Langtang Trekking does not go to very high elevations, so the altitude may not be a big problem, but you can still feel a bit of effect after the Langtang Village. You don't need to worry about mild symptoms or difficulty breathing on the trek. But we suggest you drink plenty of fluids on the mountain.
Trek Equipment
It depends on the season when you Trek to the Langtang Valley. You can visit Langtang Trek all year, so trekking gear is also suggested according to the weather and temperatures. If you are on a hike in the spring, you do not need to pack hot clothes, but you need warm clothes for autumn and winter. Likewise, you must take rain gear on a trek during the summer. You can see the essential checklist for the hike below:
Duffel bar or rucksack
Daypack
Thermal layers
Long and short-sleeve trekking shirts
Fleece shirt
Windproof jacket
Down jacket
Warm gloves
Sun hat
Woollen hat
Long and half trekking paints
A few pairs of trekking socks
Good-quality trekking boots
Sports shoes and water sandals
Sunglasses
Head torch
Moisturizers cream
Lip balm
Sun lotion
Wet tissue
Multi-use power socket
Quick-drier towel
Water bottle or camelback
First-Aid kit
Enough Nepalese Rupees for drinks
Toiletries
Tamang Heritage and Langtang Valley Trek
You can combine the Langtang Valley and Tamang Heritage as the Tamang Heritage and Langtang Valley Trek, which is around a two-week trip. This trip begins in Syabrubesi after a long drive through the hillside from Kathmandu.
You Trek to Gatlang on the first day from Syabrubesi after spending the first night in Syabrubesi getting off the bus. Alternatively, you can take a private jeep from Kathmandu to Syafrubesi if you do not like taking a public bus for a long hillside road journey.
Trek to Tatopani, Nagthali, Thuman, and Briddim, then go to Sherpagaun to meet the Langtang Valley Trekking Route. You reach Rimche and Trek to Lama Hotel, Langtang Village, Mundu, and Kyanjin Gumba. After a day's exploration from Kyanjin Gumba, you Trek back to Lama Hotel and Syabrubesi, then drive back to Kathmandu to complete the Trek. You can hike to Kyanjin Ri, Tserku Ri, Langsisa Kharka, or Lirung base camp and Lirung Glacier on the exploration day from Kyanjin Gumba during this Tamang Heritage and Langtang Valley Trek. Check out the Trekking outline itinerary for this trek below:
Drive to Syabrubesi (1500m): 6-7 hrs.
Trek to Gatlang (2238m) in 5–6 hrs.
Trek to Tatopani (2607m) in 5–6 hrs.
Trek to Nagthali (3165 m) in 3 hrs.
Trek to Briddhim (2229m): 6-7 hrs.
Trek to Sherpagaun (2500m): 6-7 hrs.
Trek to Lama Hotel (2410 m) in 5 hours.
Trek to Langtang Village (3430 m) in 6 hrs.
Trek to Kyanjin Gumba (3870 m) in 4 hrs.
Exploration day in Kyanjingumba and visit Kyanjin Ri, Tserko Ri, Langsisa Kharka, and Lirung Glacier
Trek back to Lama Hotel (2410m). 6-7 hrs
Trek back to Syabrubesi (1500 m) in 6-7 hours.
Drive back to Kathmandu (1350m). 6-7 hrs
Suppose you have more days with the Tamang Heritage and Langtang Valley Treks mentioned above. You can go to Gosaikunda Lake and Trek to Kathmandu, crossing Lauribina La Pass and walking through Thadepati, Kutumsang, Chisapani, and Sundarijal.
Frolic Adventure is operating this Trek from Kathmandu at a reasonable cost. We provide an experienced government-licensed trekking guide and helpful assistance. We have a special discount for families and group trekkers, so you can contact us for the best arrangement for the Trek.