One of the short and easy mountain trips in Nepal's Annapurna region is the Ghorepani Poon Hill Trek. This trail has hundreds of trekkers daily because first-time trekkers, elderlies, and families can do it quickly. The Poon Hill viewpoint is a primary attraction of this trip, from where you can see magnificent views of the Dhaulagiri and Annapurna Himalayan ranges with unblocked sunrise.
Hiking up to Poon Hill early morning to catch the sunrise view over the mighty Himalayas can be pretty tuff for someone. Still, it can be the best memory of the trip, which is why this trip is also known as Poon Hill Sunrise Trek.
The trek goes through traditional Gurung and Magar villages and rhododendron forests. The forests look amazing when the flowers bloom in spring.
Not just for beginners and families with kids, the Ghorepani Poon Hill trekking is a great trip even for experienced trekkers and hikers who are traveling to Nepal with limited time. It is a reputed trekking region with good facilities of lodges to stay and serve food from a food menu every place. It means you do not need a tent to sleep in and carry food for the trip.
Trekking to Poon Hill is an easy mountain activity, but it is not mean it is super flexible. However, you must have some physical training and be fit to walk a few hours on up and downhill trails. You will love the magnificent scenery on this trek. Still, you also will have an excellent opportunity to experience Magar and Gurung culture and lifestyle. The Magar and Gurung people are the local habitants in this region, who are familiar as the brave Gurkha Soldiers in the British and Indian regiments.
The regular itinerary of the Poon Hill trek is for five days, which makes a loop through Ghandruk Village, but it also can do in 2, 3, or 4 days. The trekkers on the Annapurna Base Camp trek also walk through this trail at the beginning for a few days. Also, the Annapurna Circuit trek ends with visiting the Poon Hill.
5-Day Ghorepani Poon Hill Trekking Itinerary Overview
The 5-day Ghorepani Poon Hill trekking itinerary is classic and makes a circuit through Ghandruk. However, you can also complete this route in 4 days from Pokhara to Pokhara. If you do not have enough time, You can visit poon Hill and come back to Pokhara, taking 2 or 3 days. Here, you see an overview of a 5-day trekking itinerary of the Poon Hill Circuit trek.
You drive from Pokhara to Nayapul or Birethanti in the morning and start walking through the Bhrungdi River valley on the first day of the Ghorepani Poon Hill Trek. According to the classic trekking itinerary, Tikhedhunga is the first camp. Still, you can hike up to Ulleri on the first passing Tikhedhunga.
After spending the first night in Ulleri, you hike to Ghorepani on the second day. You will walk to Ghorepani inside a deep forest after Banthanti for a few hours. The Ghorepani village is between rhododendron forests with many buildings and colorful roofs. You sleep here and hike to poon Hill early morning to catch an unblocked sunrise and see magnificent mountain views on the third day during the Poon Hill circuit trek. After the Poon Hill visit, you walk back to the lodge, have breakfast, and then trek to Tadapani.
On the fourth trek day, go to Syauli Bazaar via Ghandruk Village. Alternatively, you can drive on the same day rather than stay in Syauli Bazaar today if you want to complete the trek in four days. While doing a 5-day trip, you walk to Birethanti for around 2 hours from Syauli Bazaar on the fifth day and drive back to Pokhara.
Please get in touch with us if you want to do a 2 or 3 days trek to Poon Hill, and then we provide detail with the cost. If you have more days with this trip, we offer different itineraries via Jhinu Hot Spring, Landruk, and Dhampus.
Poon Hill Trip Map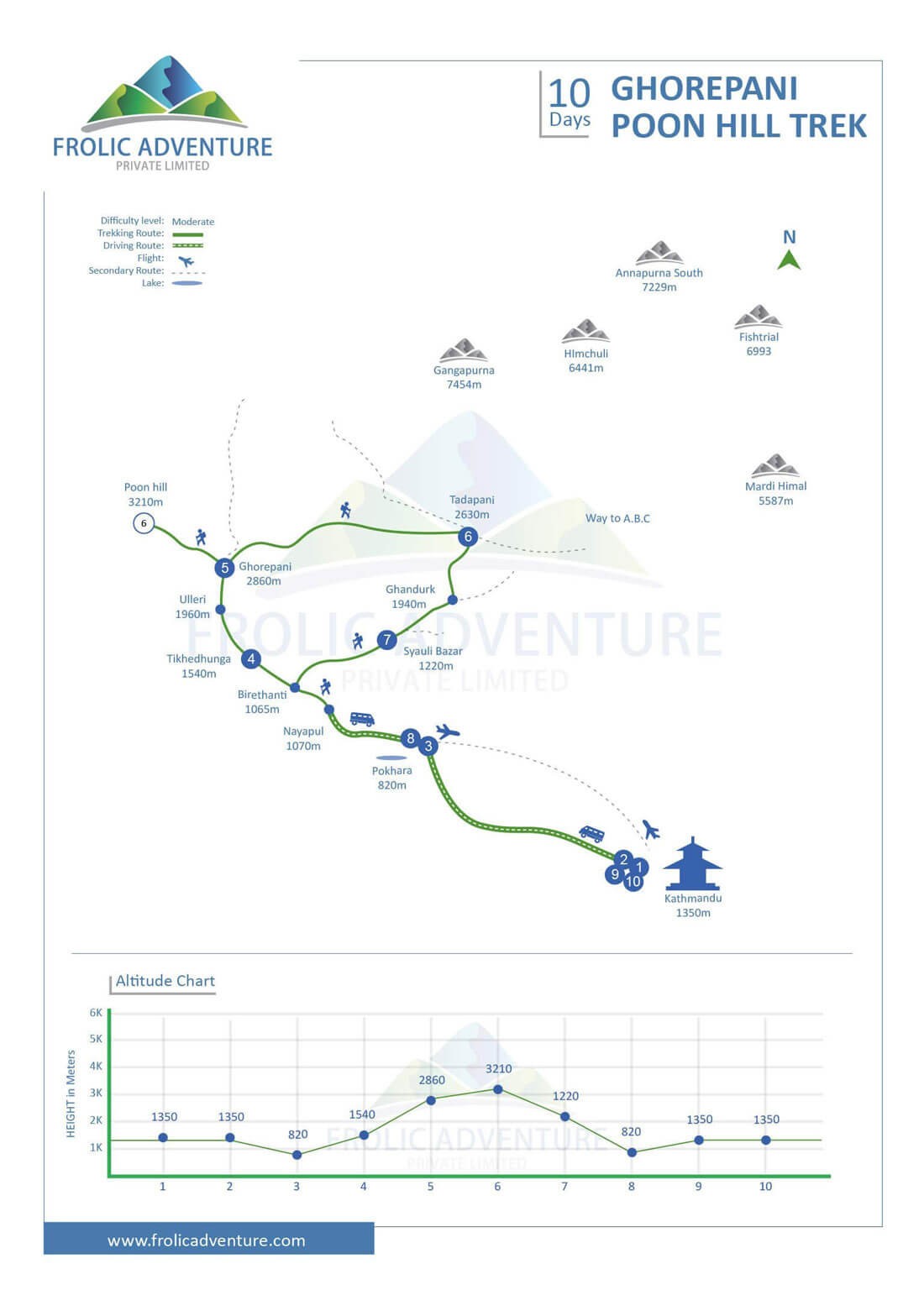 Ghorepani Poon Hill Trek Map with altitude detail
We have made a 10-day Poon Hill Trekking map from your arrival to the final departure home. According to our trip map, our airport representative picks you up from the Kathmandu International Airport on day one and transfers you to the hotel, where you meet a tour manager and talk about the next day's program after check-in at the hotel.
You will have a full-day Kathmandu tour on day two. You visit four UNESCO World Heritage sites during the day tour and trip meet in the evening. On day three, you drive to Pokhara, Nepal's second-biggest city, and stay overnight. After a night stay in Pokhara, you go to Birethanti, where you start walking.
You will be in the mountain from the day four to seven for the four nights and return to Pokhara on the day eight. After spending the second visit night in Pokhara, you drive back to Kathmandu on day nine and fly back home with a sweet memory of the Nepalese Himalayas on day ten to complete the Ghorepani Poon Hill trip.
Pokhara to Poon Hill
You can drive from Pokhara to Banthanti directly in a jeep and walk to Ghorepani in one day and visit Poon Hill the next morning. Still, according to our package, you will spend one night in between. You may return to Pokhara the next day if you have little time. You can also trek through Tadapani and Ghandruk, walk to Tatopani (hot spring), and drive to Pokhara if you have a few more days.
Ghandruk to Poon Hill
Ghandruk to Poon Hill is pretty tuff compared to the clockwise route. It is a long day walk on lots of up and downhill trails. You ascend from Ghandruk towards Tadapani for 3 hours through a dense forest and descend for around 15 minutes. You walk on the steep part for an hour here and will have a flat part until Banthanti for another half an hour. Again, you will climb for another 3-4 hours to Deurali and descend for half an hour for the final part to Ghorepani. So, Ghandruk to Poon Hill is doable but pretty hard for the first-time trekker, so going through the clockwise itinerary is highly recommended.
Best Time or Season to Trek to Poon Hill
You will enjoy a lot and see magnificent views if you are on the trek at the right time. Of course! We suggest you to travel to Poon Hill in autumn and spring. You can also visit in winter, but summer is not a perfect time to trek to Ghorepani Poon Hill. The clouds will cover the mountains most of the time in summer. However, other natural attractions like waterfalls, rivers, forests, and bright landscapes always look magnificent on this trekking route. Check the general information about the best time or season to trek to Poon Hill below:
Autumn Season
September to November is the autumn season in Nepal, which comes right after summer. Heavy rainfall in summer clears haze and makes the weather bright in autumn so that you can see colorful mountains, blue skies, and dark green forests at this time. Autumn is the biggest trekking season in Nepal and Poon Hill, so we recommend trekking if you want to explore the region with the best visibility and tolerable temperature.
Spring Season
The spring is the second biggest trekking season in Nepal and also for the Ghorepani. Many rhododendron trees are around the Ghorepani Poon Hill trail, so blooming flowers make the forest colorful in spring. The spring is a dry season, so there will be deep haze in this season in the lower area, but you can see magnificent views from Poon Hill. There might be some snowfall in the higher altitudes, and hail falls with a strong wind in the evening at this time.
What Makes the Trek Memorable?
There must be some expectation for everyone when they plan to travel, so trekkers also might have a desire to see something which makes their trip memorable and a lifetime experience while planning a trek to Poon Hill. So, what makes this trip unique then? Let's check them below:
Poon Hill Viewpoint
The Poon Hill Station is the major highlight of the Ghorepani Poon Hill trek. You will hike to this vantage viewpoint from Ghorepani early in the morning with a flashlight, which takes a maximum of an hour. You will see magnificent views of Mt. Dhaulagiri I -IV, Tukuche Peak, Gurja Himal, and Dampus Peak of Dhaulagiri massif, and Nilgiri South, Baraha Shikhar, Annapurna South, Fishtail, and Annapurna II of the Annapurna massif with unblocked sunrise.
You can also see captivating landscapes, valleys, the zenith of green hills, pristine forests (especially when the rhododendron bloom), and more natural attractions from Poon Hill. There are a couple of hundred visitors every day who will enjoy this hill station's natural beauty.
Note: Make sure you are hiking to Poon Hill when the weather is crystal clear and perfect visibility.
Traditional Gurung and Magar Villages
You will walk through typical Gurung and Magar Villages during the Ghorepani trekking. You see magnificent architecture with stone roofs on most of the buildings in the Villages. You will pass Ghandruk on this trip, the region's most significant Gurung Village. You will also see the lifestyle of these ethnic people and experience their culture on this trek.
Traced Rice Fields and Captivating Landscapes
The trekking trail to Ghorepani Poon Hill begins and ends around a thousand meters altitude, where you see well-traced rice fields. You will see different farming lands in the higher regions, where farmers plant millet, buckwheat, corn, and other crops without water. During the trek, you also see captivating landscapes with green hills, waterfalls, rivers, and more natural attractions.
Trip Cost for Ghorepani Poon Hill
The Ghorepani trek is a short mountain trip, so it is a budget tour compared to the other long adventure treks, such as the Everest Base Camp. The price depends on the service inclusion and exclusion, number of days, and member participation in a group. According to our package, it costs 625 USD for a single trekker, but it will be cheaper for more than one trekker in a group. The price includes international airport pick-up and drop service, a full-day Kathmandu tour, all transport during the trip, trekking permits, a guide, porter, food, and lodges during your Nepal stay. Check the price list below according to the group size:
1 Trekker: 625 USD – Book the trip from the Book Now section
2-4 Trekkers: 500 USD – Book Now
5-10 Trekkers: 450 USD – Book Now
We offer special discounts for families and group bookings. If you have more than ten trekkers booking at the same time, please get in touch with us through email or WhatsApp at +977 9851043624 to get a discount price.
Get a Lifetime Experience of Poon Hill with Frolic Adventure!
You might be interested in this trip after knowing about the Poon Hill Trek information and more from above. Frolic Adventure has been operating this tour since 2016 and has arranged thousands of trips. We provide experienced and knowledgeable trekking guides who are authorized government license holders. We also place helpful and friendly supporters who carry your trekking gear and make your trip smooth and comfortable.