The Nepal Luxury Tour is for non-adventurous travelers in Nepal. It covers UNESCO world heritage sites and hill stations, which offer culture, history, religion, wildlife, unblocking sunrise, and stunning mountain views. All age groups can enjoy this tour during any season.
A Luxury Tour in Nepal is an opportunity to learn ancient Nepalese history, lifestyle, art, and architecture. It is an easy activity that takes you from one place to another with a drive. It is a perfect tour for the elderly, family, and honeymoon couples. Not only the historical and cultural learning in Nepal, but you also have a beautiful natural experience from this luxury trip to Nepal. Jungle activities and mountain views from Nagarkot and Sarangkot are the natural attractions of the 11-day Nepal Luxury Tour. Most tour sites are religious, so it can also be a pilgrimage trip in Nepal.
This 11 Days Luxury tourin Nepal tucks 6 UNESCO cultural heritage sites in Kathmandu Valley, the natural heritage site Chitwan national park, the birthplace of Lord Buddha Lumbini, Bandipur, Sarangkot, Nagarkot, and the beautiful lake city Pokhara.
Places to Visit During Nepal Luxury Holiday Tour
You will visit 7 UNESCO cultural heritage sites Kathmandu Durbar Square, Swayambhunath, Bouddhanath, Pashupatinath, Patan Durbar Square, Bhaktapur Durbar Square, and Lumbini. Also, you have a jungle safari inside a natural UNESCO site Chitwan national park. Besides these historical and natural sites, you visit hill stations like Nagarkot, Bandipur, and Sarangkot during the Tour.
Kathmandu Durbar Square
The Kathmandu Durbar Square was established in the 14th century during the Malla dynasty. King Jayaprakash Malla was the king here in the 18th century, who was omitted by King Prithvi Narayan Shah after his Kathmandu victory.
Pagoda (the Nepalese style temples) made from the 12th to 17th centuries, living goddess (Kumari), art, architecture, and more attraction can explore in the Kathmandu Durbar square. You can also learn the ancient history of this UNESCO site while visiting this.
Swayambhunath (Monkey Temple)
Swayambhu means the earth is a god itself on a hill station. The monkeys live here, and it is easy to pronounce to foreigners, so it is famous as a monkey temple. You have a great view of Kathmandu Valley, green hills, mountains, and more from the top of this hill.
Besides the natural views, you can explore Syambhunath Stupa, the mythical Harati temple (goddess of pneumonia), Monastery, 17th-century Shikhara temples (Pratappura and Anantapur), a weapon of guru Rinpoche and more in this tour site.
Pashupatinath Area
Pashupatinath temple is one of the most sacred religious sites for all Hindus. The temple is existing for thousands of years. It is a Hindu temple, but the Buddhists also deference as their holy place and worship one day in November.
There are several big celebrations like Teej (women's festival) in August and Shivaratri in February. Thousands of Indian pilgrims and Sadhus come here during the Shivaratri. Although, the main temple allows only Hindus and Buddhists to enter. Tourists can only go close to the main gate and the cremation area. An open cremation (burning dead body) is a primal attraction to tourists in the Pashupatinath area.
Bouddhanath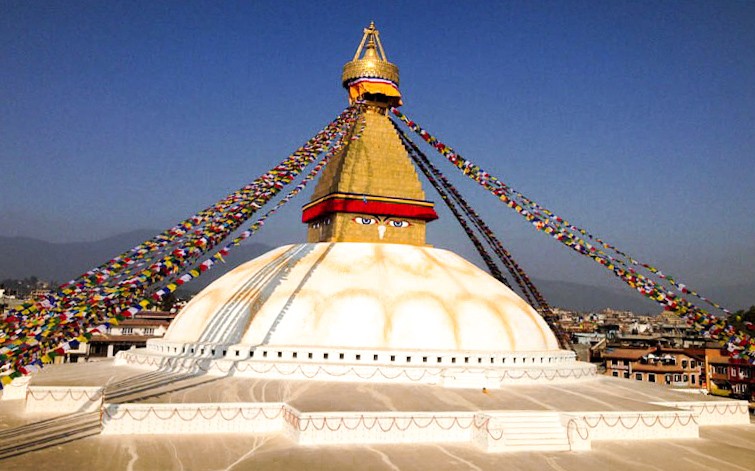 Bouddhana Stupa
The Bouddhanath is a Buddhist site that remains in a big yard and is surrounded by buildings. The Bouddhanath is the highest stupa in Nepal. And it is the second-highest in the world. The Bouddhanath had made in the 3rd/4th century, and it has several different legends.
A Bouddhanath stupa is a holy place for Buddhists. There will be a big Buddhist festival in the Buddha Purnima (full moon in May). There are hundreds of monasteries around this area, and you can visit a couple of them during the Nepal Luxury trip.
Patan Durbar Square
Patan Durbar Square is also an ancient royal palace. It is in Lalitpur city inside the Kathmandu valley. Patan is a city of fine arts, where you can see many masterpieces of iconography and carvings. The Patan Durbar Square existed during the Malla dynasty in the medieval period.
You can see beautiful pagoda temples, decored yards, gardens, stone temples, art museums, and more in Patan Durbar Square. The Patan covers a small area compared to the other royal palaces in the valley, but it is one of Kathmandu's most beautiful ancient royal palaces.
Bhaktapur Durbar Square
Bhaktapur Durbar Square is the oldest royal palace in the Kathmandu Valley. The Bhaktapur was also known as Bhadgaun. The city is famous for wood carving and Juju Dhau (king curd). The Bhaktapur visit tucks Pottery Square, Dattatraya Square, Taumadhi Square, and Durbar Square.
During the Bhaktapur tour, you can explore a 55-window palace, pagoda temples, stone temples, and more attractions. Bisket Jatra celebrates every year in the Nepalese new year every day by pulling a giant wooden chariot. Fascinating buildings with beautifully carved windows in the town look amazing.
Nagarkot Hill Station
Nagarkot Hill is at an elevation of 2,195m above sea level and is north of Kathmandu Valley. On the day of the Patan and Bhaktapur City Tour, you will drive to this hill and enjoy the view of the sunset in the evening.
Unblocking sunrise in the morning with magnificent views of Manaslu, Ganesh Himal, Langtang Himalayas, Gaurishankar, and the Tibetan massif are primal highlights of the Nagarkot hill station. Besides the mountains and the sunrise, attractive landscapes, green hills, and river valleys are extra attractions from Nagarkot.
Bandipur Hill
Bandipur Hill is in the west direction of Kathmandu Valley. It is in Gandaki Privince Tanahun district in Nepal. You can reach Bandipur in around an hour's drive from Dumre. Bandipur is also a traditional Newar town, where you can see Newari architectural buildings, culture, and lifestyle.
Panoramic views of Annapurna, Manaslu, and Ganesh Himal massifs look magnificent from the Bandipur hill station. Besides the mountains, a glimpse of Dumre Bazaar, Marsyangdi river valley, rice fields, green hills, and more attractions make your day worth from Bandipur.
Sarangkot Hill
Sarangkot (1,600m) hill is one of the best hill stations near Pokhara to see unblocking sunrise and the Mountain range. About a half an hour drive from Pokhara city center takes you to this hill. It offers stunning views of the Dhaulagiri, Annapurna, and Manaslu Himalayan ranges.
Mt. Annapurna I, II, III, IV, and Fishtail (Machhapuchchhre) look at a close distance from Sarangkot. Besides the mountains, the florid views of Pokhara city, Fewa Lake, Seti River valley, and rice fields fascinate you.
Pokhara City
Pokhara is a beautiful lake city in Nepal. It is a nice, clean, and not crowded city in Nepal. It is a new Metropolitan city combined between Lekhnath and Pokhara. There was a dense forest until the 17th century when people started to live by deforesting.
You can see magnificent views of Mt. Fishtail, Annapurna South, Annapurna I, II, III, IV, Hiuchuli, and more from Pokhara. Beautiful caves, waterfalls, deep river gorges, museums, and more attractions are here to explore. Besides these natural attractions, you can boat on the Fewa Lake, fly on paragliding/ultra gliding, and do extra activities in your free time in Pokhara.
Lumbini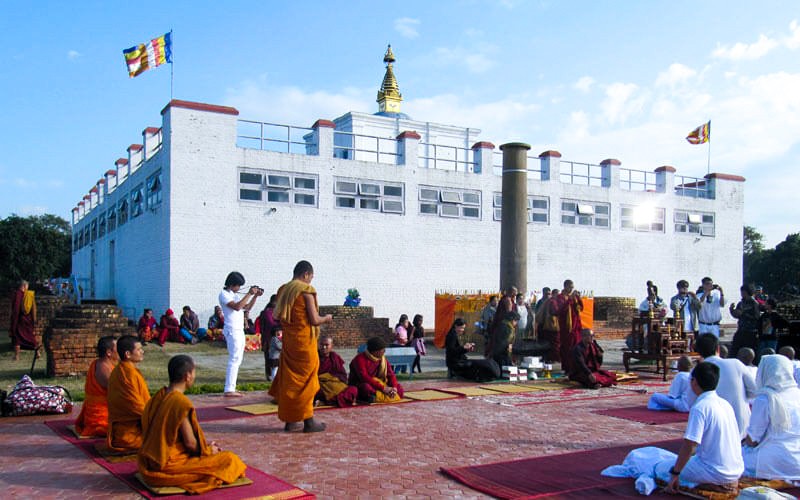 Mayadevi Temple
Lumbini is the birthplace of the Lord Buddha. It is 255km west of Kathmandu and is a holy place for Buddhists. Thousands of pilgrims and visitors from all over the world visit this site every year.
You can visit several monasteries, stupas, and more during the Lumbini visit. Mayadevi temple, the Ashokan pillar, and the world peace flame are the highlighted attractions of the Lumbini.
Chitwan National Park
The Chitwan national park is a natural world heritage site by UNESCO. It is the oldest national park in Nepal. The national park has a dense forest of Cider (Saal) trees and wildlife. There are thousands of nature lovers visit this national park every year.
In the national park, you can see mammals like rhinos, deer, boars, bears, and many other animals. Besides the mammals, several reptiles like crocodiles, snakes, and monitor lizards. The primal activities in Chitwan are the jeep safari, visiting the elephant breeding center, birdwatching, jungle walking, and traditional village walking.
The 11-day Nepal luxury Holiday Tour is recommended for family, the elderly, and non-adventurous Nepal travelers. Frolic Adventure is operating this tour at a reasonable cost. This 11-Day Luxury Tour in Nepal can be customized according to your time and interest. Feel free to contact us with your recommendations earlier if you prefer our regular trip itinerary changes.