Everest base camp helicopter tour is a miraculous luxury flight to the world's highest mountain and its range with landing at Kalapatthar (5,550m). You might have a dream to see this tallest mountain at least once in your life, but you either don't have enough time for a long trek or can't walk in the high elevation with freezing temperature. So, Frolic Adventure makes your dream real to Explore the magnificent Himalayas through a helicopter flight.
The Everest base camp helicopter tour furnishes a significant-high snow-capped massif. Principally, this trip is planned for those, who are physically disabled, elderly, time-bounded people and who do not dare to trek in cold and high altitudes. They can relish this 4-5 hour scenic Heli tour to Everest. Visitors can discover eye-captivating towering mountains such as Sagarmatha, Lhotse, Amadablam, Pumori and more with some attractive landscapes of the Everest territory during the trip. Besides these, the helicopter tour with landing provides an event to explore and learn about the culture, religion and lifestyle of the mountain's legendary Sherpa people.
The Everest base camp Helicopter tour begins from the domestic terminal of Tribhuwan international airport Kathmandu. After making a small circle to the valley, the flight heads toward the Lukla gateway to the Sagarmatha base camp. An ariel view from a chopper flight exposes the impressive sceneries, green hills, farming terraces, traditional ghettos and charming white mountains. This Everest base camp Helicopter tour lands at Lukla airport for refuelling. You feel mountain refreshment with fresh air in this little town. Khumbu region is a land of Sherpa people, who follow Buddhism. You will get the first sight of the Sherpa settlement with Buddhist prayer flags, monuments and Dudhkunda peak.
After a few minutes of stimulating break and flight check, The helicopter flies towards the Everest view hotel flying above Phakding, Monjo and Namche Bazaar. In case of not landing in Syangboche, the second land goes to Pheriche. Heli pilots will be careful about safety benefits by auditing helipad and wind conditions before the final land at Kalapatthar (5,550m). Once you land at Kalapatthar, you will be surrounded by 360-degree mountain views such as Pumori, Lingtren, Khumbutse, Cholatse, Lola, Lhotse, Nuptse and more. You will have the nearest look at the world's highest mountain from this landing.
the Everest base camp helicopter tour flies above Khumbu icefall and glaciers via base camp before you land back at Syangboche. It is the world's highest elevated luxury hotel. You will spend around 20-30 minutes here for breakfast. After enjoying an unreal mountain scene and delicious breakfast, you will land in Lukla again for refuelling, then fly back to Kathmandu.
Note: A helicopter can land at Syangboche with 450kg and Pheriche with 420kg. There is a high altitude restriction, so Kalapatthar allows landing only with 220kg. Therefore, a group of 5 passengers split into two different suttles to and at Kalapatthar after Pheriche.
You must be excited about this thrilling Everest base camp helicopter tour. Then, we heartily advise you to book this luxurious flight tour to Everest with us. Frolic Adventure operates this trip with safety-focused and reliable cost guaranteed. You can pick any suitable departure dates for a group join or also can charter privately. We may help you to customize your trip accordingly to your needs.
Kalapatthar Landing Helicopter Tour Outline Itinerary (Flight route)
Fly from Kathmandu to Lukla
Fly from Lukla to Everest view hotel/Pheriche
Fly from Syangboche/Pheriche to Kalapatthar
Fly from Pheriche/Everest view hotel to Lukla
Fly from Lukla to Kathmandu
EBC Heli Flight Tour Route Detail
A luxury adventure helicopter flight to Everest base camp takes place in the morning from 6:30 – 7:00 am with clear weather. But, the flight time can be changed or delayed due to the weather condition sometimes, so our Heli pilot inspects everything before taking off from Kathmandu airport.
Helicopter Tour Route Detail
Kathmandu to Lukla
You will depart from your hotel at 5:45 am to the airport Helipad. Our airport representative will pick you up in a private car and transfer you to the Kathmandu airport. The flight instructor briefs you about safety measures and guidelines that you should follow during the trip here. Then, you go to board for the Everest base camp helicopter tour.
After taking off from the Kathmandu airport, it heads towards Tenjin Hilary airport Luka. The Lukla airport has a short runway situated in the lap of a big hill. You will have ariel views of agricultural terrains, classic villages, green hills, alluring valleys and more including sublime Himalayan ranges.
You may have the prospect to discover massive snow-capped mountains like Manaslu (8,163m), Ganesh Himal (7,422m), Langtang Lirung (7,225m), Gauri Shankar (7,134m), Pumori (7,161m), Amadablam (6,812m), Nuptse (7,861m), Lhotse (8,516m), Tibetan mountains Shishapangma (8,027m) and many more. After a 10 to 15 minutes break for refuelling in Lukla, the flight moves to Everest view hotel/Pheriche.
Syangboche/Pheriche to Kalapatthar
Everest view hotel or Pheriche is the second land during the Everest base camp helicopter tour. Our pilot decides whether land at Syangboche or Pheriche according to wind conditions. Only 5 passengers are allowed to fly from Kathmandu. Because of load limitation, it has to divide into two different shuttles from Syaaangboche or Pheriche. So, the first flight takes either 2 or 3 people to Kalapatthar. Then, land 15-20 minutes. You see 360-degree high mountains surrounding and the nearest glimpse of Mt. Sagarmatha. After some beautiful capture, you will fly over the base camp and Khumbu glacier and Khumbu icefall.
Rest those who wait for the second shuttle in Syangboche or Pheriche, they enjoy heavenly brunch and hot coffee with outstanding hospitality and dazzling mountain vision. Once the first group arrives back from Kalapatthar, the second group flies towards the base camp and the people who flew earlier do the same as the others.
Pheriche/Everest View Hotel to Lukla
Now, all the travellers departed from Kathmandu return together on the same suttle from Syangboche to Lukla. Flying over Namche Bazaar, Monjo, Phakding and other classic villages, you land at the side of Tenzin Hilary airport. Here, You will have another 10-15 minutes break for refuelling in the helicopter.
You can get off the chopper, enjoy the fresh air and take some beautiful photographs of the plane landing on the shortest runway that you ever have seen.
Final Flight to Kathmandu
After a tiny stop for fuel, you will fly back to Kathmandu with a remarkable mountain experience from the scenic helicopter tour. You will again follow the same valleys, crossing the hills and sceneries. If the shorter airway has covered with clouds, you will fly taking the southern route, which is slightly longer than the northern direction.
Everest Base Camp Trekkers Also Can Ejoy the EBC Heli Tour
Are you on a trek to explore the Khumbu region and enjoy nature? We wish you a successful walking trip to the world's famous Himalayan territory. But, not all hikers will be able to finish the itinerary and they have to give up after a few days hike. It can be any reason like having altitude sickness or some other. But, you might have a big goal to reach the wished target. Frolic Adventure takes you there and brings you back safely.
We will pick you up from places like Phakding, Namche Bazaar, Tengboche, Dingboche, Pheriche, Lobuche, or Gorakshep while you are on a trekking trip. You can contact us with a phone call, WhatsApp or other possible access. You can even fly back on a helicopter after visiting the base camp and Kalapatthar if you do not like to return through the same route that you followed on the way up.
Gear List for Helicopter Tour to Everest Base Camp
The region particularly has cold temperatures, though it is adorable except in winter. So, necessarily pack warm gear for this landing helicopter tour to Everest base camp. The mountains are bright, and mountainous areas have cold wind. We have rectified the essential gear list for the Everest base camp helicopter tour here:
Important: We suggest wearing and taking only these mandatory pieces of equipment to minimize the weight limit for the flight.
Passport for check-in
Nepalese currency for breakfast and drinks in mountain
Ultraviolet protection sunglasses
Windproof feather jacket
Warm thin fleece layer
Thermel Layer
Windproof trouser
Warm socks and light sport shoe
Winter hat
Sun lotion, lip balm and moisturizer
Wet tissue and toiletries
Camera with a fully charged battery
A couple of hours Everest base camp helicopter tour is proverbial the best mountain flight in Nepal. Almost 3-4 hours flight from Kathmandu delivered to Kalapathar and Everest base camp including several landings in Lukla and Syangboche/Pheriche. Because of starting very early, you won't have enough time for breakfast in Kathmandu and will reach the Everest view hotel. Existing at a 3,880m of elevation from sea level, it is the highest luxury hotel in the world. After having a tasteful breakfast and hot coffee, The Heli tour proceeds toward the base camp and Kala Patthar to explore the best of the best close look of the Himalayas.
Weather and Temperature During Helicopter Landing Tour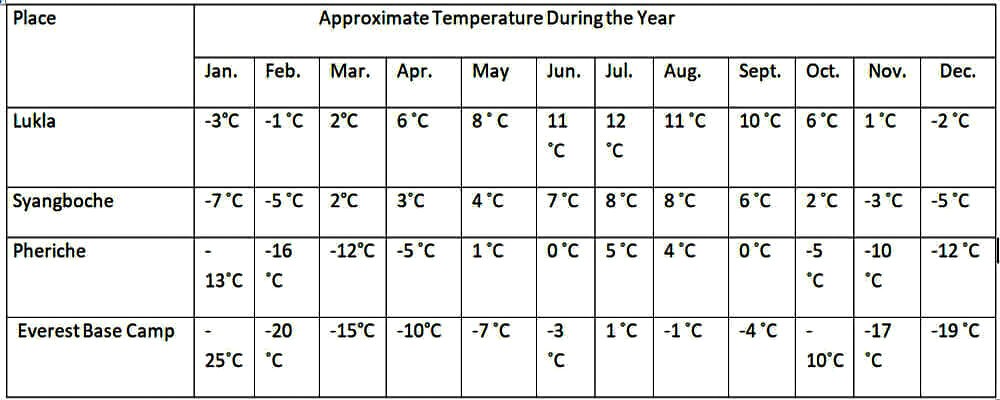 Weather in the Everest region can change very quickly. Usually, it will be clear visibility in the morning throughout the whole year except for summer. Autumn, Spring and winter seasons also might have some cloudy days, so you need to try for another day if you have time. In case of the trip is cancelled, you will get a refund of your payment.
After taking off from the Kathmandu airport, you will directly land at 2,840m (Lukla), so you feel chill here. As altitude gains for further landings, it will be colder temperature. We have set a monthly temperature list below, which can make it easier for you.
Best Time to Fly To Everest Base Camp
Everest region is at the world's Himalayan high altitude, so the climate is not stable up on the mountain. The Everest base camp helicopter tour is operating in the morning for a few hours, so you don't need to worry about the weather for the whole day. We do not run the flight if it is cloudy or rainy. Also, there is no meaning to flying if you can not observe the expected view of massifs and terrains.
If you need our recommendation about the best time for this glorious flight tour on a helicopter to Everest base camp, we suggest picking the seasons in autumn/ spring. During these times, it will be clear visibility with a blue sky and shiny mountain views most of the time. There is less chance of rainfall during these periods, and the temperature will be adorable. It is cold in winter, but you still can enjoy the views. On the other hand, summer has lots of rainy days with a thick layer of clouds, so we do not advise this time for the Everest base camp helicopter tour.
Our prime focus is on your safety, so we never operate the flights if the circumstance is unsafe due to the bad weather. The helicopter engine is also regularly checked before taking the flight tour to the Everest base camp.
Travel Tips of Safety Rules for Helicopter Tour to Everest Base Camp
It is important to stay secure during the flight tour by following some essential rules and regulations. You need to pay attention while the helicopter pilot briefs about the trip. Asking unnecessary questions to the captain while flying and showing unintelligible movements can lead travellers to trouble at any time.
The Heli pilot briefs travellers about what to do and not to do during the flight time and landing. It is hard to see the front and back wings of the helicopter while the engine is on, so check well before entering the chopper and getting off from every landing. Please wait for the captain's signal before entering and exiting the helicopter and ask which side of the Heli is safe to go. Especially, do not go to the backside of the chopper.
Please do not smoke near the aircraft. Helicopter wings pass a big wind, so be sure if your hat and sunglasses might blow away. We wish you a delightful Himalayan experience with lots of fun and great memories throughout all essential safety instructions. If you have any queries regarding the secure Everest base camp helicopter tour, please feel free to ask by filling out the contact us form.
Landing Helicopter Tour Cost Details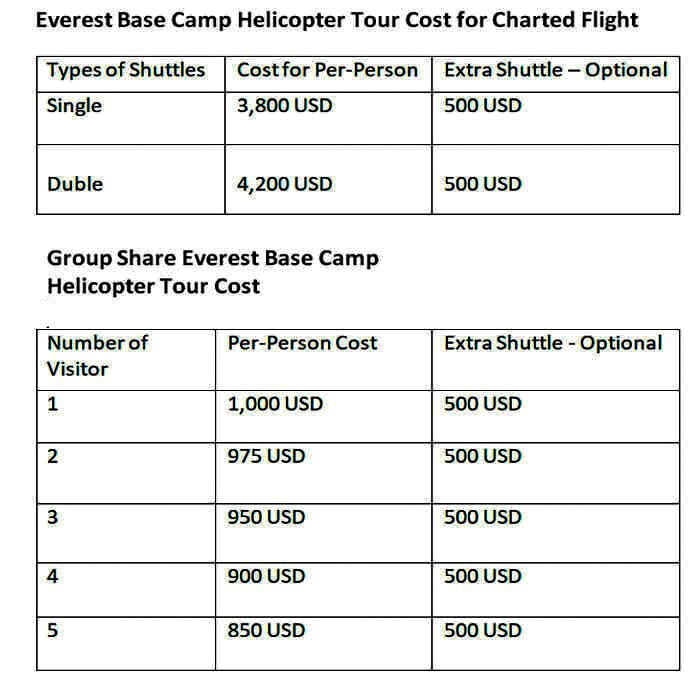 The cost for this Everest base camp helicopter tour with landing depends on the service. If you wish to add extra activities to our regularly offered inclusion, it will go slightly higher. Even for the same involvement, the fare is different according to the group size. If you have more than one person at trip booking time, it will be cheaper than for a single person.
We also operate a private fight trip for a single person to 4-travellers as per your yearning. An intimate Heli tour is expensive, but you defiantly have more amusement without a rush. The minimum range of cost starts from 9,00 USD. If you have a group of 5 travellers, 9,00 US$ is the base price per traveller. Any individual and couple can book this activity from our fixed departure dates. We will manage the group during the high tourism falls in Nepal. Here, we have set the tables detecting the cost for a private and group join Everest base camp helicopter tour:
We are operating a private flight tour to the Everest base camp at an acceptable cost for our valued customers. Please check the approximate price from the table below. We can do our best for you if you declare the number of travellers at one booking. To get the best deal, you need to reach us by visiting our contact us section.
Attractions of the Tour
Everest Base Camp, Khumbu Glacier and Icefall
Everest base camp is the fateful destination for helicopter tour travellers. Located at 5,364m of elevation, it is the beginning of the Khumbu glacier. The base camp has almost no fixed tents for climbers. But, it becomes like a beautiful Himalayan city in the spring season.
Khumbu Icefall between two giant mountains (Everest and Lola) looks attractive. Climbers have to cross this before heading on to the camp I and further until the summit of the world's highest peak. Crossing these crevasses is the most technical part of the Everest expedition. Flying over these attractions from a close distance can be an unforgettable helicopter flight experience in Nepal.
Khumbu Glacier is the highest Himalayan glacier in the world. Its higher part elevation is 7,600m and ends with 4,900m at the bottom. Everest high passes trekkers cross this before reaching Lobuche. And the base camp trekkers encounter on the 8th day after leaving Kathmandu.
Kalapatthar
Kalapatthar is one of the most famous hill stations among the Everest base camp trekkers. It is located very near to the trekker's final camp Gorakshep. It seems conjoined with Mt. Pumori from a far distance, but it is a single hill with lots of rocks on its top. Hikers for this peak don't need to have climbing gears and permits. And it offers the best view of the Himalayas with the nearest capture to Mt. Everest.
Kalapatthar appears 360° mountain views, which you can not expect from the base camp. That is why it is one of the best-preferred hill stations by travel experts and wonder. Due to the high altitude, the Heli does not land for a long time at Kalapatthar.
Everest View Hotel at Syangboche Hill
Hotel Everest view at Syangboche is the highest altitude located hotel in the world with luxury accommodation. Takasi Miyahara opened this lodge in 1,968 because he liked the place, with stunning views of Mt. Amadablam, Thamserku, Khangteka, Nuptse, Lhotse, Everest and more. It had awarded by the Guinness Book of World Records in 2,004 AD.
Located on the southern side of the Khumbu region's biggest Sherpa village Khumjung, the Everest view hotel is on the lap of a holy mountain Khumbila. The Everest view hotel at Syangboche presents phenomenal views of landscapes, valleys and impressive massifs in a cosy environment. You will have an opportunity to stop and explore the natural beauties with a delicious breakfast, hot drinks and warm hospitality at this place during your trip.
Wander Everest with Frolic Adventure
It is not only escaping in the Himalayas as most visitors consider before going there. It is not just observable but also a moment to experience the local's lifestyle, religion, culture and nature. A lot of people trek this region for all of these things. Perhaps, you have a goal for this experience at least once in your lifetime. But, you might not have enough time for a long trekking trip or can not walk in the high elevation and cold temperature. Whatever the reason can be, you can phrase your dream and we are here to fill your yearning.
During your Everest base camp helicopter tour to the Everest base camp, you will decore by furnished landscapes, edges of green hills, valleys, rivers, waterfalls, and alpine forests with blooming rhododendron.
Exceptionally, you can also enjoy the view of Manaslu, Ganesh Himal, Langtang, and Gaurishankar Himalayan ranges before entering the Everest Himalaya. Mt. Amadablam 96,812m), Everest (8,848.86m), Lhotse (8,516m), Cho-Oyu 8,153m), Nuptse 7,864m), and Pumori 7,156m) are the highest mountains on the Everest region, which you can see during this flight tour. For that reason, a helicopter tour with landing is not only the way to reach the base camp and also the perception of an adventure that other travellers talk about it.
Helicopter Models for the Tour
Airbus AS350B3e
There are two different types of helicopters made in peculiar countries and companies operating the flight services to the Everest base camp in Nepal. Manufactured by the world's most popular Heli company (Eurocopter in France), Airbus AS350B3e can land and takes off at the highest altitude. It is the safest chopper we provide you for the tour.
Manufactured: Eurocopter, France
Shuttle Capacity: 6 people at low elevation, 5 passengers at the higher (Excluding captain)
Load Capacity: 2,250kg
Engine Genre: Ariel 2D
Bell 407GXP, Jet Ranger 206B-3-9N-ALL
Manufactured by Bell helicopters for multi-propose services are also flying for a helicopter tour in Nepal. This four-blade single-engine helicopter is trustworthy and furnished with a reliable engine and cabin. Bell helicopters fly smoothly in all weather conditions.
Manufactured: Bell Helicopters, USA
Shuttle Capacity: 5 Passengers at lower altitudes, 4-people at the higher elevation (Excluding the pilot)
Load Capacity: 1,451kg
Engine Genre: 206B-3
Other Helicopter Tours in Everest Region
Kathmandu to Lukla or Lukla to Kathmandu Helicopter Flight
Lukla is an entry point to the Everest base camp that most trekkers go through. Some hikers miss their regular flight due to the unfavourable weather or can't get a ticket because of fully booked in advance. In this case, you can take a Heli ride to start your trek. We will arrange the flight if missed a plane to Tenzing Hilary airport.
On the other hand, the same situation could happen after you complete the Everest base camp trek. We can also manage a helicopter flight to Kathmandu from Lukla.
Namche to Everest Base Camp/Kalapatthar Helicopter Flight then Lukla or Kathmandu
Travellers in Namche are for a short visit because of not enough time or giving up the EBC trek due to the health issue, but have a desire to visit Everest base camp/Kalapatthar also can book a helicopter flight. If you are on the Gokyo lake trek and want to visit Everest base camp without crossing Cho La pass, you can fly on a helicopter from Namche Bazaar. This 15 minutes helicopter flight from Namche takes you to the Everest base camp/ Kalapather for unreal views of the Himalayas.
The duration for the trekkers from Namche to Everest base camp/ Kalapatthar is for 4-5 days, which you can complete within a few minutes via a helicopter tour. It is out of imagination for them, who despair about reaching Everest base camp from Namche in a short time, that is also without physical activity.
You can either drop off at Lukla to catch a scheduled flight or directly fly to Kathmandu on the same helicopter after this dramatic helicopter ride from Namche to Everest base camp/Kalapatthar when you return.
Phakding to Everest Base Camp/Kalapatthar Helicopter Flight then Lukla or Kathmandu
We operate a helicopter tour to Everest base camp/Kalapatthar from Phakding for the trekkers with limited time or not thinking to walk to the base camp. In the evening brief from a trekking guide about steep uphill trails to Namche Bazaar, some hikers might change their minds to fly rather than hike.
Some people can get early altitude sickness in Phakding and have to stop or return to Kathmandu without seeing the Everest base camp and magnificent mountains. Phakding to Everest base camp helicopter flight can be an option for them.
Tengboche to Everest Base Camp Helicopter Flight then Return to Lukla or Kathmandu
Everest view is the shortest trek in the region that displays Everest, Amadablam and other big mountains. If you are on this hiking trip and interested to see higher places and phenomenal views but are time-bounded, then Tengboche to Everest base camp helicopter flight phrased your wish.
You reach Kalapatthar and Everest base camp around 10 minutes after taking off from Tengboche, enjoy the delightful looks of the natural beauties, and then fly to Lukla or Kathmandu.
Pangboche to Everest Base Camp Helicopter Fight and Back to Lukla/Kathmandu
The elevation of Pangboche village is 3,900m of elevation above sea level, so there will be more chances of suffering from altitude sickness. So, a helicopter ride to Everest base camp is the best option not to lose the charm of Everest rather than a mournful return from this altitude.
When you return after enjoying the spectacular views, You can land at Lukla and take the regular flight to Kathmandu. But we recommend flying directly to Kathmandu and visiting an attitude doctor.
Dingboche to Everest Base Camp Helicopter Flight and Back to Lukla/Kathmandu
Trekkers who have trekked until Dingboche and can't walk further to a higher place can take a helicopter flight to the Everest base camp. Dingboche to Everest base camp helicopter flight covers the additional areas in the region which are not in the climbing itinerary. So, it can be a great chance to observe some beautiful backdrops of the Himalayas, which are not on the climbing itinerary.
This 10-15 minutes flight will offer a brilliant Everest experience to travellers. After this, you can either decide to land in Lukla or continue flying to Kathmandu.
Thukla/Lobuche to Everest Base Camp Helicopter Flight and Return to Lukla/Kathmandu
Thukla is at 4,600m elevation from sea level, and Lobuche is at 4,910m, which has a very high possibility of getting mountain sickness. Also, crossing the Thuk La pass is challenging for the trekkers. For those who walked here and found it difficult to go further, a helicopter flight to the Everest base camp is honestly adviseable. To reach your wished point, it can be the best solution. The helicopter flight taking off from Thukla/Lobuche relieves you from a painful hike and also provides you with an opportunity to capture a great memory from the Everest region at the same time.
The flight towards Everest base camp or Kalapatthar from Thukla/Lobuche passes delightful ariel views of the mountains, landscapes and glaciers. It can be a lifetime Himalayan flight experience in Nepal that you never get from anywhere. On the return, you can either land at Lukla airport or straightly fly to Kathmandu by the same helicopter.
Gorakshep to Lukla or Kathmandu Helicopter Tour
The travellers who reached Gorakshep struggled during a trekking trip and suffered from the high mountain sickness, then missed the base camp, can book a helicopter flight to the base camp and return to Lukla or Kathmandu. Also, those visitors who visit the base camp and Kalapatthar, then do not like to return through the same trail that walked on the way up can fly directly to Kathmandu from Gorakshep. Out of that, you can choose the Everest base camp trek with a helicopter return trip. People who have the ambition to reach Kalapatthar with a hiking trip, but do not have enough time, can choose the Everest base camp trek with a helicopter return.