One of the most famous adventure trekking, with the most significant high pass (Throng-La), is the Annapurna circuit trek in Nepal. It is a classic trekking route in the Annapurna region. The entire trail of the trip goes through behind the Annapurna massif. It combines a multi-ethnic, cultural, and religion-based trek in Nepal. The journey also offers the world's deepest river gorge, the Himalayan hidden valley (Kaligandaki), magnificent Annapurna, Manaslu, and Dhaulagiri massif, and attractive landscapes.
The trek to the Annapurna circuit lies inside the Annapurna Conservation Area Project (ACAP). Variations in nature, explore Hindu and Buddhist religions, Crossing Throng La (5,416m) with unreal views of big snow-capped mountains like Manaslu, Lamjung Himal, Annapurna I, II, III, IV, Dhaulagiri, Nilgiri, Tiicho and more are the major attractions of the trek.
You may have a typical Himalayan rural feel in traditional villages like Bhraka, Pisang, Kagbeni, and others during this adventure circuit trek in the Annapurna region. Different nature views every day from start to the end provide you with a lifetime experience from around the Annapurna trek.
The Around Annapurna trek begins from Kathmandu, driving in a public bus to Bhulbhule. It is about a 7-hour drive through the hillside road. You can also hire private transportation, which is fast and comfortable. You can either stay in Bhulbhule on the first day or walk about an hour to Ngadi.
On the second day goes to Chyamje on a rough road. Here, you can see a beautiful waterfall and lots of beehives on the rock on the other side of Chyamche town. You leave the road after Chyamje and start ascending to Sat Tale and go to Taal crossing a forest. The trail around this area goes through the Marsyangdi river valley, so you can not see high mountains around here.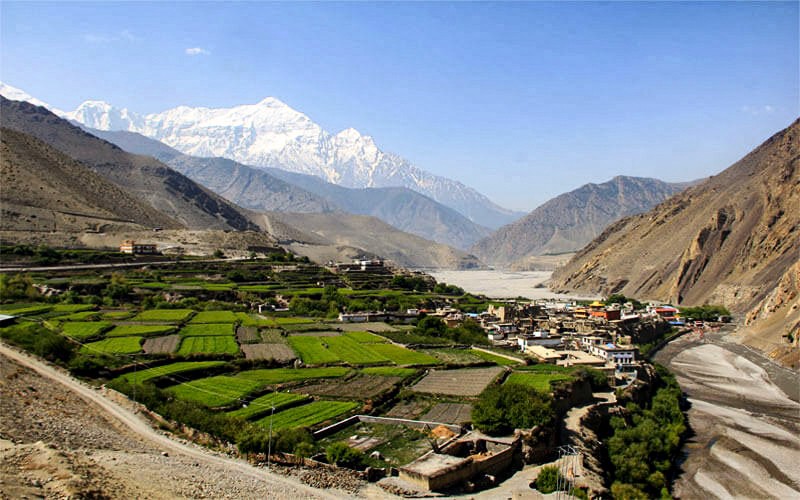 Kagbeni village
You reach Bagarchhap on the third day, from where you can start seeing high white mountains. Massive Annapurna second looks attractive on the north side of Bagarchhap. Likewise, the trail goes to Chame, Pisang, and then Manang. The Manang is a place where you have an acclimatization rest day. Then, you go further to Yak Kharka and Throng Phedi before crossing the world's most significant pass Throng La (5,416m). It ascends from 4,450m to 5,416m and then descends to 3,760m (Muktinath). That is why it is the most significant high pass in the world.
You reach quite a different landscape than the Manang side to the Mustang region after the pass. You have magnificent views of Dhaulagiri, Tukuche, Tilicho peak, and Nilgiri mountains from Muktinath. The Muktinath is a famous and sacred pilgrimage site for Hindus and Buddhists. You can visit Hindu temples, Buddhist monasteries, and shrines in the same place. You can also see a natural gas flame inside a Buddhist monastery, which is offered as Jwala Mai (Flamed Goddess).
You trek to Marpha from Muktinath through the Kaligandaki river valley. Here you can see the high mountain desert landscape. The Marpha is the apple capital of Nepal, where you can try some apple dishes and drinks. Kalopani is the only where you can see the Annapurna I during the circuit trek. Next, you go to Tatopani, where you can enjoy a natural hot spring, and then trek to Ghorepani. You can also drive direct from Tatopani to Pokhara if you do not have enough time or don't want to climb a hill to Ghorepani.
Poon hill is one of the best hill stations for sunrise and Himalayan views. You will hike to Poon hill early morning and see two Himalayan ranges, Annapurna and Dhaulagiri. Dhaulagiri I, II, III, Tukuche peak, Nilgiri south, Brahashikhar, Annapurna south, Hiuchuli, and Machhapuchchhre (Fishtail) look stunning from this hill. Then you descend Tikhedhunga and Nayapul and drive to Pokhara at the end of the trek.
Tilicho Lake trek With Annapurna Circuit
Tilicho lake trek also lies in the Annapurna circuit route. If you have two more days from the regular circuit trek, you can also visit Tilicho lake. It is one of the world's highest lakes and is very beautiful.
Following the route around the Annapurna trek, you split left to Shreekharka and Tilicho base camp via Khangsar village in one day. On the second day, you hike to Tilicho lake (4,919m) and then trek to Shree Kharka. You will join the circuit trekking trail on the third day after the Tilicho lake trek.
Half Annapurna Circuit Throng La Pass Trek
You might be confused about a half-circuit trek. How is it possible, and what is it? The complete circuit ends in Nayapul with a few days of the walk after Jomsom, but the half-circuit Throng La pass trek ends with a fly-out to Pokhara from Jomsom.
The Annapurna half-circuit trek is perfect for trekkers who do not have enough time for a full one. It is an 11-day trek from Kathmandu to Pokhara.
Why ThisTrek with Frolic Adventure
Easy online booking access
We provide all the essential information about the trek
We arrange group joining and private trip departures
We have well-experienced government license-holder guides for the trek
We provide helpful, hard-working, and honest assistance
Ask us for a customized itinerary, and make a flexible plan according to your time and interest
Competitive price and reliable service with travel safety operation
Our trekking crews are well-equipped and insured
Accessible for any changes if possible
Trekking Gear for Annapurna Circuit
The Annapurna circuit is an adventure trek with a high pass (Throng La). It is a cold region for a year, so you must pack warm and quality trekking gear. Check the essential checklist below for the Annapurna circuit:
Duffel bag or rucksack
Daypack
Sun hat
Warm hat
Sunglasses
Head torch
Sun lotion
Moisturizer cream
Lip balm
Buff
Thermal layers
Long and short sleeves trekking shirts
Down jacket
Fleece jacket
Windproof jacket
Rain gear
Half and full trekking pants
Warm gloves
Windproof trouser
Few pairs of trekking socks
Quality trekking boots
Extra shoeless
Sports shoes and water sandals
Finger and toe warmer
Water bottle
Trekking poles
-20° support or plus sleeping bag
Muti uses power-socket
Powerbank
Extra camera battery
Swimming costume
Light-weight quick drier towel
First-Aid kit
Toiletries
Accommodation, Food, and Drink on Annapurna Circuit Trail
There are plenty of guesthouses on the Annapurna circuit trail in each camp. But, just a few in the camps like Yakkharka, Churi Ledar, Throng Phedi, and High Camp. You must book space in these places in advance if you are on a trek during the high trekking season.
Most lodges have rooms without a bathroom, but you can get an attached bathroom in some places. The toilets are indoors in the same building, so you do not need to go outside from the lodge building. You will get a free hot shower in most places in the Annapurna circuit route. The accommodation has twin-sharing clean and comfortable beds with pillows and blankets.
The foods are served from a food menu in the lodge where you stay. You can choose from western and local dishes for the main course. Trained cooks prepare hygienic foods on the trekking route. The bakery items in Manang are the best to try.
You can buy bottled mineral water or safe drinking water along the way after Taal, but some places might be closed nowadays. You can also drink tap water but use purification methods before drinking it.
Internet, Phone Calls, and Battery Charging
There are wi-fi services at almost every place in the Annapurna circuit region. But, the internet access might be slow, so we recommend buying an NTC SIM card for the trek. You can make phone calls and use the internet from the data.
There is electricity in all the places where you stay on the trek. So, you can charge your batteries in the guesthouse, but you need to pay for the battery charging in some places.