The Annapurna Circuit Trek (ACT) is the most adventurous lodge trekking in the Annapurna region. It is a 16-day mountain trip in Nepal's Annapurna region, which starts from Kathmandu and ends in Pokhara. There are a couple of hundred adventure trekkers every day on this route during the high trekking seasons. The walking trail of this trip goes behind the Annapurna mountains by making a big loop.
The ACT is also known as the Throng La Pass trek. The trip offers different natural beauties every day. The hike leads from a low elevated sub-tropical climate to the high alpine dry lands gradually and again brings back to a similar environment in the end as the beginning.
You see traced rice fields at the beginning of the trip, and then walk further higher where you see different farmlands where people grow potatoes, buckwheat, and other crops, which do not need plenty of water. There are various ethnic groups along the way of the Annapurna Circuit, so it is the best trek to explore different cultures, religions, and people's lifestyles except charming nature.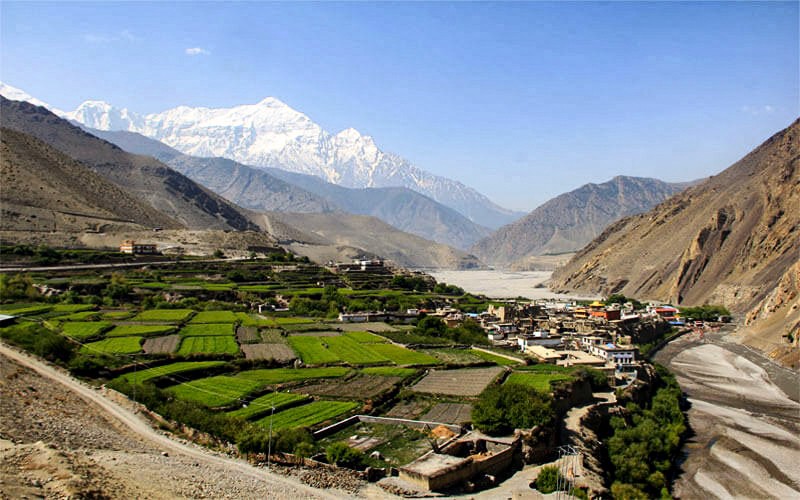 Kagbeni village
16-Day Annapurna Circuit Trekking Itinerary Overview
Frolic Adventure's 16-day trekking Itinerary of the Annapurna Circuit begins from Kathmandu with a drive to Bhulbhule and a walk to Ngadi. After spending the first night in Ngadi, you trek to Chamje on the second day. You will be walking on the road mostly today through Syange, Shreechaur, and Jagat.
You cross a suspension bridge from Chamje and see a big natural marijuana field, walk on an ascending trail to Sattale, and enter into a forest. Once you cross this forest part, you reach Taal, where the Manang District begins on this trek. You cross a bridge after Taal again, meet the motor road, and walk through Khotro to Dharapani. Dharapani is the ending spot of the Manaslu Circuit trek. You will walk another hour to Bagarchhap from Dharapani on the third day of the hike.
You reach Chame on the fourth day, the district headquarters of Manang. Then, you walk to Pisang and Manang on the fifth and sixth days. On the seventh day, you will have an altitude practice day in Manang and hike to 100 Rupee Lama or Gangapurna Glacier. You can also walk to Ice Lake or Milaripa Cave, full-day hikes from Manang.
After being well acclimatized in Manang, the trek goes to Yak Kharka or Ledar on the eighth day and the ninth to Throng Phedi or high camp. The tenth day of the Annapurna Circuit trek is the hardest because you are crossing Throng La (5,416m/ 17,769.03 feet), and you must start walking very early in the morning with a flashlight. You reach Muktinath today, which is in Mustang. Here, you will see different types of landscapes, dry and brown.
You trek to Marpha, walking through Kali Gandaki Riverside and Jomsom on the eleventh day.
Note: You can also drive directly to Tatopani after Muktinath if you need more time to complete our package's Itinerary.
Marpha is a delightful apple capital of Nepal, where you can have apple dishes and cider in the evening. After Marpha, you trek to Kalopani on the twelfth day. Kalopani is the only place from where you can see Annapurna I (8,091m/ 26,545.28 feet) on this trek.
You cross the world's deepest river gorge, Kali Gandaki, on the thirteenth day while you walk to Tatopani. You visit a natural hot spring in Tatopani in the evening and trek to Ghorepani on the fourteenth day. After spending a night in Ghorepani, you hike to Poon Hill on the fifteenth day to see the unreal view of Annapurna and Dhaulagiri massifs with the sunrise and walk downwards to Tikhedhunga. The sixteenth day is the shortest walking distance of the trek and arrives back to the city. You will walk around three hours to Birethanti and drive to Pokhara for two hours with an unforgettable adventure experience.
Trip Map of Annapurna Circuit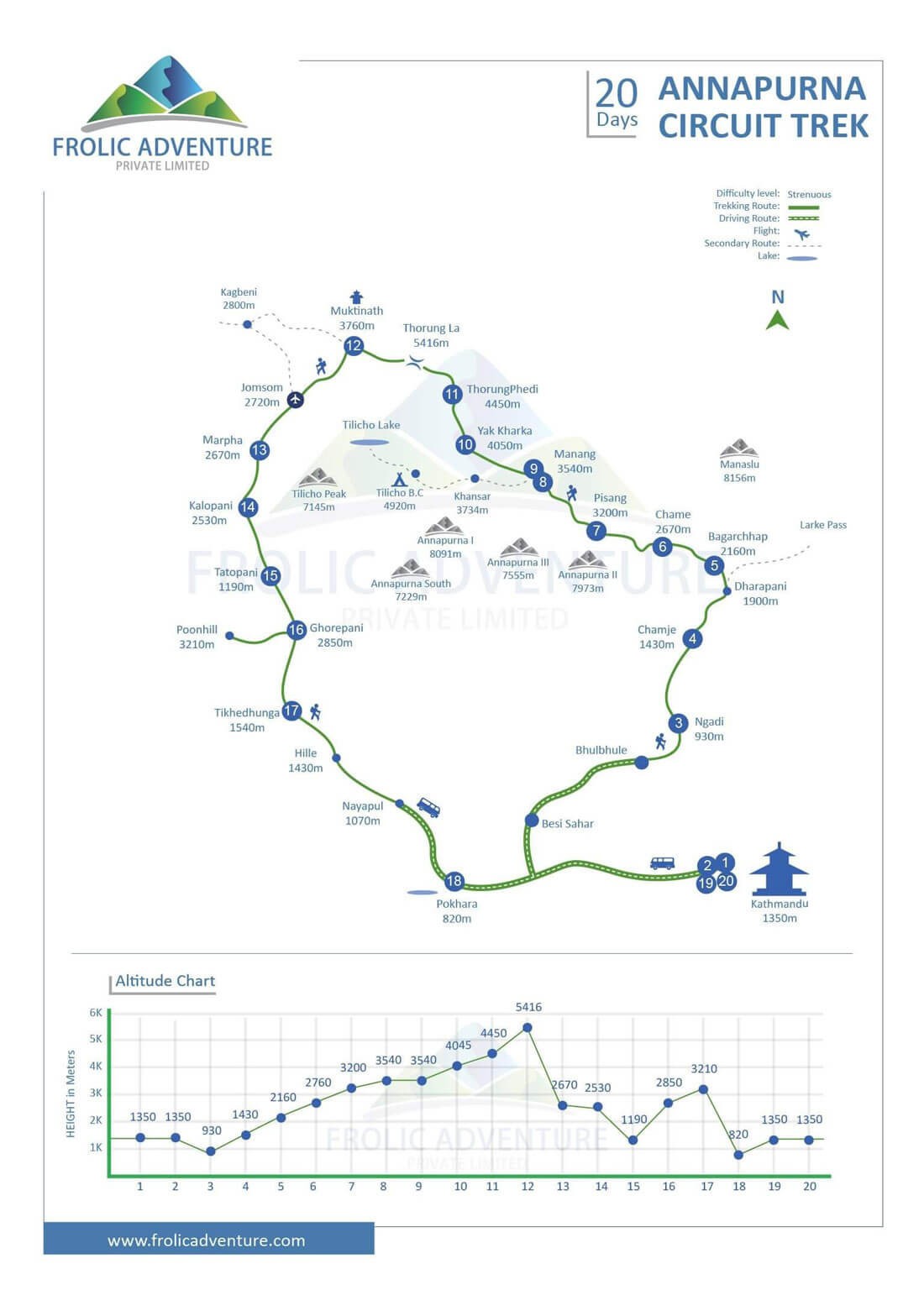 Annapurna Circuit Trek Map with altitude detail
We have prepared a 20-day trip map for the Annapurna Circuit trek, which begins with your arrival in Kathmandu and ends with your final departure home. According to our trip map, Frolic Adventure's airport agent will pick you up with a warm greeting and take you to the hotel in private transport on the 1st day. You meet a tour manager in the hotel and talk about the next day's program in the hotel.
You will have the Kathmandu day tour on the second day before heading to Annapurna Circuit. You visit four historical sites in Kathmandu during that time and drive back to the hotel for trekking preparation. Today, you meet your trekking guide, who leads to the ACT.
On the 3rd day, you drive to Bhulbhule from Kathmandu on a public bus, according to our service. Alternatively, You can take private transportation directly to Ngadi this day at an extra cost. You stay in the mountain for fifteen nights from the 3rd to the 17th day and arrive in Pokhara on the 16th. According to our trip map, you still have two more days with us before you drive to Kathmandu and depart to the international terminal for your final departure.
Annapurna Circuit and Tilicho Lake Trek
The world's highest elevated lake, Tilicho, is in Manang, Nepal. It is one of the pristine high Himalayan lakes you can visit during the Annapurna Circuit Throng La Pass trek. But it would help if you had 2-3 extra days to see this tranquil lake with the regular trekking Itinerary of the Annapurna Circuit. Check a general Itinerary of Tilicho Lake and Throng La Pass trek below:
Drive from Kathmandu to Bhulbhule (6 hours) and Trek to Ngadi (930m/3051.18 feet) (1 hour).
Trek to Chyamje/Chyamche (1430m/4691.601 feet): 7 hrs.
Trek to Bagarchhap (2160 m/7086.614 feet) in 6 hours.
Trek to Chame (2670m/9087.927 feet) in 6 hours.
Trek to Pisang (3200m/10498.69 feet) in 5 hours.
Trek to Manang (3540m/11614.17 feet) in 5 hours.
Acclimatization rest day in Manang and exploration around
Trek to Tilicho Base Camp (4150m/13615.49 feet). 6-7 hrs
Hike to Tilicho Lake (4919m/16138.45 feet) and Trek back to Shre Kharka (4080m/13385.83 feet) in 7-8 hours.
Trek to Yak Kharka (4050m/13287.4 feet): 4-5 hrs.
Trek to Throng High Camp (4800m/15748.03 feet) 4 hrs
Trek to Muktinath (3760m/12335.96 feet) via Throng La Pass (5416m/17769.03 feet). 7-8 hrs
Drive to Tatopani (1190m/3904.199 feet). 3-4 hrs
Trek to Ghorepani (2850m/9350.394 feet): 6-7 hrs.
Trek to Nayapul (1070m/3510.499 feet). 7 hours and drive to Pokhara (820m/2690.29 feet). 2 hrs
Please get in touch with us directly or via WhatsApp at +977 9851043624 for the detailed Itinerary and cost of the Annapurna Circuit and Tilicho Lake trek.
Annapurna Circuit Trek Difficulties
The Annapurna Circuit is a challenging trek because of a high pass, Throng La. It will be accessible on the other days except for crossing Throng Pass. However, some trekking days in the lower region can be challenging because of longer distance walks with up and downhills.
It will be more difficult to trek to Annapurna Circuit compared to the regular trekkers and hikers. First-time trekkers with solid determination will also be able to go on this trip. Still, they must have some hiking practices or physical training for a few months before going on the trek.
The altitude problem is the significant difficulty of the trek when you cross Manang. Less vegetation and less oxygen in the air make breathing difficult in this area. You need to amble and stop sometimes to catch your breath after Manang until Throng La passes. Also, a long downhill walk after the pass is challenging for those who have knee problems. If there is snow on the trail, it even makes it harder to walk.
Trekking Preparation for Annapurna Circuit
Preparation helps for successful trekking for the Annapurna Circuit and other adventure mountain trips. First, make a strong mentality that you can do it. A positive mindset plays a vital role in completing any adventure activity, so you must have a favorable determination on the trip.
Of course! It is a strenuous trip, so you must be physically fit with hiking practice and muscle training. Hiding a few hours daily on up and downhill trails is best. Or, you can walk a couple of days a week for a few months before you go on this trek. Remember to carry 5-6 kg weight during hiking training. You will take this much-weight daypack on the Annapurna Circuit trip.
Besides mental and physical preparation for this adventure Annapurna trek, you can also do muscle exercises in the gym and run a few kilometers daily. Focus on your leg and thigh practice, which keeps away from shore legs by walking on many up and downhill trails.
Best Time to Trek to Annapurna Circuit
The trekking trail to the Annapurna Circuit stays blocked sometimes in a year due to the heavy snow. Also, there will be cloudy days sometimes, which block high mountains. When is the best time to trek there, then? It is a good question. You enjoy it a lot if you are visiting in the right season. Check information about recommended timing or seasons for the ACT.
Autumn Season
Autumn is the best time to trek in the Nepalese Himalayas and the Annapurna Circuit. You find autumn the most prominent season to visit, but when is autumn in Nepal? These three months of September, October, and November are the autumn months, the dedicated months to trek to Annapurna Circuit. Although the first half of September is considered the late monsoon, there can be some rainy days, and clouds can cover the mountains.
The autumn comes right after heavy rainfalls, so the monsoon rains clear hazes and the weather. This season, you see dark green forests, giant waterfalls, and rivers along the Annapurna circuit. If you are thinking about the ACT in autumn, you are choosing a perfect time, so book the trip now with us for autumn 2023.
Spring Season
The Spring is the second best season to trek to Annapurna Circuit. The temperatures remain warmer in the Annapurna region in this season compared to autumn. Spring can be the best for you if you love to walk in warm temperatures.
The Spring is a dry season so it will be hazy in lower areas. You can not see mountains from a far distance. Still, once you reach closer to the Annapurna Himalayas, you will see stunning mountain views. Spring is known as the king of the seasons because the flowers bloom at this time everywhere, and nature looks colorful. You see magnificently blooming rhododendrons in the lower areas while trekking on the Annapurna Circuit trail.
We suggest walking early and reaching the camp earlier every day because it might rain and hail in the lower region and snowfall in the higher areas in the evening sometimes in this season.
Trek Cost for Annapurna Circuit
The cost for the Annapurna Circuit depends on the service inclusion and exclusion. It costs 1550 USD for a single trekker. It may be cheaper to book the trip for multiple trekkers simultaneously. Check the cost detail below according to the group size:
1 Trekker: 1550 USD – Book this trip from the top right booking section
2-4 Trekkers: 1345 USD – Book Now
5- 10 Trekkers: 1200 USD – Book Now
We offer special discounts for families, tour leaders, and bigger groups. Please get in touch with us directly or through WhatsApp at +977 9851043624 for the discount offer.
Get Annapurna Circuit Adventure Experience with Frolic Adventure
Frolic Adventure is a trusted local trekking operator for Annapurna Circuit in Nepal. We have been operating this trip since 2016. Our experienced government-authorized guides lead you on the trek. We arrange a full-board trip to be a hassle-free, safe, and memorable mountain trip for you.
Our cost is very reasonable, and you can also get a special discount for the ACT. We are using an easy payment system, so you can make online payments, which is 100% secure. We do not add hidden costs, so lace up your boot, pack trekking equipment, and be ready for the Adventure Annapurna Circuit Trek now.