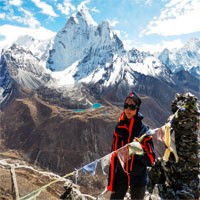 Laura Edwards
United Kingdom
October 02, 2023
Excellent journey to Everest Base Camp! I heartily endorse Frolic Adventure for anyone planning a trek to the EBC.
The Agency was incredibly organized and professional, and it included certain extra things that other companies did not.
Rajesh was a terrific trip leader. He was incredibly kind and helpful, and he immediately learned what we could do and where we lacked confidence. He shared information that was fascinating and displayed outstanding local expertise. He was amusing.
Jiban, our porter, was amazing; not only was he speedy and friendly, but occasionally he assisted me over the mountain.
We traveled really well! Many thanks again to Team Frolic!